Character an Equal Priority to Skill for Gunners after Ramsey Saga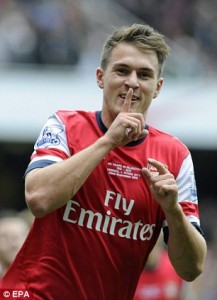 Aaron Ramsey proved to be a divisive figure amongst the Arsenal faithful during his 11-year stint at the club. His arrival from Cardiff City in 2008 was initially something of a godsend to Arsenal fans, many of whom were alarmed at the club's sharp decline in the aftermath of the 'Invincibles' era.
Ramsey's arrival initially satisfied the increased demand for an all-round midfielder. He not only boasted the ability to go box-to-box, but also showed the ability to adapt his playing style according to demands, as his role increasingly correlated with the late-2000s fad for 'tiki-taka' football.
When on-form, Ramsey adhered to this expectation consistently, but his Arsenal career would be blighted by injuries at the turn of the decade.Athletically, he was never quite the same after the infamous 'Shawcross tackle' in November 2008, and in the end, the later arrival of players like Mesut Ozil and Alexis Sanchez eventually forced him into a deeper role. This new role did not consistently play to his strengths, ultimately precipitating the contract saga that has ended with his flight to Juventus for a princely £0.
Ramsey Departure Damages Arsenal Profile
Now aged 28, Ramsey is at his peak, and if the sort of injuries that blighted his Arsenal career do not resurface, the Welshman still has at least four years of top-level European football on the agenda. Given that, his value in today's transfer market is cited by Transfermarkt at around £36m.
While £36m is unlikely to be enough to buy Arsenal the real Sanchez-style 'game changer' the club needs this summer, it could have at least made up the shortfall created by another failure to finish in the top four.
That failure itself could prompt the likes of main guns Alexandre Lacazette and Pierre Emerick-Aubameyang to consider moves elsewhere, and ensure that the odds against Arsenal finishing in the top four lengthen drop yet further on sites like Marathonbet. It could also see rumoured targets such as Hakim Ziyech, Nabil Fekir and Adrien Rabiot eschew Arsenal in the hopes of joining a 'better' club.
Thus, having seen Ramsey depart for nothing, Unai Emery will make contract extensions just as much of a priority as new signings. As the joint-top scorer in 2018/19, Aubameyang will be the default priority, as the Gambian goal-getter likely needs little to turn his head.
Indeed, having joined ailing Arsenal from a strengthening Dortmund side, Aubameyang's own move to Arsenal in 2017 demonstrates in full just how much the right package can sway a top athlete.
Modern Attitudes Present Clear Challenge – and Danger for Emery
Once fixated on a new destination, it is only natural for athletes to ignore new contracts, even at a cost to their soon-to-be former club.
Like Aubameyang, several other key components of the Arsenal squad will see their contracts expire in June 2021, the most prominent of which is Mesut Ozil, who turned thirty this year, and will see his own transfer value plummet in the coming seasons.
Having done little to justify his standing as the fifth-highest earner in the 2018/19 Premier League, a pragmatic decision over his immediate future will need to be made soon. Clear though that is, however, the faith in Emery's ability to make better key decisions than the latter-day Wenger is far from universal.
Indeed, Ramsey's contract saga is not an isolated incident when it comes to situations of player mis-management in the post-'Invincibles' era. Players such as Jack Wilshere and Alex Oxlade-Chamberlain also found themselves alienated at times, with both men since departing the Emirates Stadium and never truly fulfilling their potential.
Rabiot et al: Rich in style and substance?
In order to avoid repeating the mistakes of the past, the powers at Arsenal must look into the character of players, as much as their respective skills. That applies whether the players in question are already on the books and stalling over contracts, or merely said to be in the sights of Emery.
The aforementioned Rabiot is the most prominent name in the latter category, and he himself is embroiled in a contract saga at PSG.
For some, simply destroying all domestic competition clearly isn't enough, and while Rabiot thrives on the swift counter-attacking game plan that Emery at least tries to enact, there must be some heed taken of his present attitude towards his current employers.
Only time can tell whether Emery will prioritise character over skill, and he continues to divide opinion after an underwhelming maiden season in North London. Yet, as a relatively young manager within the elite sphere of management, the former PSG boss knows better than anyone how footballers are but hired hands, who often act according to personal interest.
Arsenal fans gearing up for 2019/20 ultimately have no choice but to hope that he can use this knowledge to benefit the club, rather than set its reputation back even further, after one of the most mis-managed contract sagas in Premier League history.