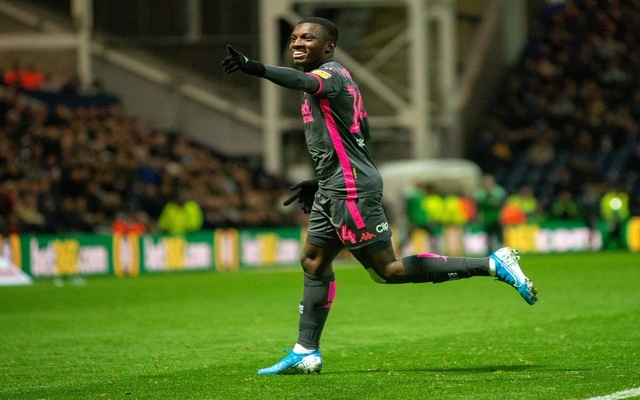 If we don't want to recall Eddie Nketiah, then Arsenal must ask Leeds to play him regularly. by Lagos Gooner
It was all over the news on Monday afternoon, how Arsenal had decided against ending Eddie's loan and recalling him back to Arsenal. This news may be good to hear but then, my question is, what happens when a player on loan doesn't get playing time? Should we allow him rot on the bench or should we recall him?
Nketiah is a player from our academy; he is a natural goal scorer and while at Arsenal, he performed brilliantly whenever he was called upon to play. He did so well playing for our junior team, that he was rewarded with a call up to the senior team; a move that was meant to slowly introduce him into topflight football. Last season, not a few Arsenal fans wanted him to be our third-choice striker, while we kept on using Auba and Laca, until they were ready to leave the club. The club probably reasoned along those lines, and that was why he was sent on loan last summer, in order for him to gain playing time and probably lead another team's attack.
When it was announced last summer that he was being sent on loan to Leeds United, many wondered why such a move was even considered, but then later agreed because it was obvious that Eddie's career would be helped if he was in a club where regular first team football was a guarantee.
Some months after his move to Leeds, Nketiah's career is in a fix! It is being reported that his lack of regular playing time got the Arsenal board worried to the extent that Arsenal had to look into the matter. Well, Arsenal have considered his situation at Leeds united and come up with a decision to allow him to continue his loan spell..
I have nothing against allowing Eddie to remain at Leeds United, but please, I wish Arsenal could be firm and insist that Leeds use him regularly or risk having him recalled back to Arsenal sooner than agreed. What is the use of sending a player on loan and such a player does not play regular football? He was sent on loan in the first place so that he won't rot away on the Arsenal bench! So why would he be sent on loan because he needs playing time, and still not play? We need to start protecting all of our players, no matter where they are playing. Leeds had better start playing our future striker more often or return him to us. Am I right, Gooners?
Sylvester Kwentua