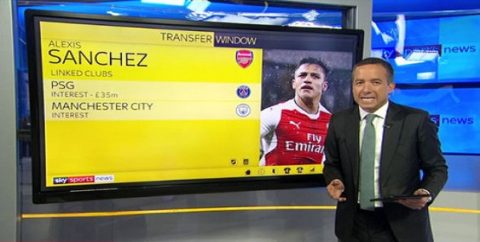 Don't Listen To Kaveh Solhekol? by Dan Smith
I find the mindset of some of our Arsenal fans strange. The fashion at the moment is people taking to YouTube to give their own version of a transfer daily, the equivalent of reading out the daily papers. Some have been a bit smug this week, preaching 'I told you so', based on Kaveh Solhekol claims that our budget is bigger than 45 million.
Let's clarify; very few of us know what is going on behind the scenes or how a transfer works. We are all simply expressing our opinions, for anyone to try and claim otherwise is arrogant. I hope in this instance Mr Solhekol is correct and Zaha comes to the Emirates. Yet I don't understand the logic of when the majority of journalists quote the same number, they are dismissed as making up rumours yet when one reporter says the opposite, we are meant to take his word as gospel? That seems to be a contradiction.
Is it because he works for Sky Sports or simply that he's saying what you want to hear? He could have heard the links with the player and simply made an educated guess. If he's wrong, we are too angry with Stan Kroenke to care. If he's right, the more views he gets and followers because suddenly he's the man with the contacts!
For example, we have all read that Man United are interested in Harry Maguire. So, I could lie, say I have been told the defender wants to leave Leicester. I don't need to provide evidence to validate it. I just guess, then look like a genius when it happens. The juice is worth the squeeze!
I have done a bit of digging and the man's reputation among other fans seems to be of someone not reliable, certainly he is wrong as much as his peers. So please do not think just because he's frequently on TV he can be trusted. As adamant as he is about our financial situation, he's had other 'exclusives' that proved to be simply hot air.
A year ago, through his Express column he wrote, 'Chelsea do want Pickford. He is their number one target if they sell Courtois. If Alison cost 67, you're talking about a 100 million keeper '
Now of course the Blues did spend a huge fee on a goalie, but it wasn't Pickford! Something tells me if Everton had any suggestion that they were going to get a 7-figure sum offer they might at least have considered it?
Also 12 months ago, you might remember Jose was getting increasing upset that the board were not backing him? Well according to our man in the know: 'We are expecting Man United to make two signings before the end of the window, Tony Alderweireld and Harry Maguire, while Perisic remains an option, if not Willian'. All 4 of those men are still at the same clubs
Anyone remember young Renato Sanches' loan from Bayern Munich? 'My sources from Italy tell me Liverpool are favourites to loan Sanches'. The Portuguese did come to the Prem, 6 months later at Swansea!!!! Speaking of the Welsh side, if they re-signed Bony, our 'expert' said it freed Llorente to go to Chelsea. The Spaniard went to London but to Spurs instead.
This one should worry us – You know how Van Dijk was desperate to leave Southampton and move to a bigger club (like Zaha) well the journo had sources then very similar to now. 'Sources close to player tell me he won't play for Saints again'. … He did for another 5 months
If you think I'm being harsh, it's not just me. Here's a tweet from Ravel Morrison in 2017, 'wrong again' when his loan destination was pure make believe.
Here though is my favourite fairy tale he came up with; 'We are being told the man they're really interested in, the dream candidate, is Diego Simeone'. Everton instead hired Sam Allardyce and I guess never spoke to Athletic Madrid.
This article isn't to mock a man who is simply doing his job. It's to not want my fellow gooners to get their hopes up based on one individual who, as I proved, gets things wrong as much as anyone else in his profession. Certainly, don't let other fans belittle your opinion just because they choose to believe him.
My advice? Until Arsenal themselves confirm things, don't believe anything.
Dan Smith