Unstoppable City on way to surpassing 'Invincible' Gunners
A Grosvenorsport.com study shows Pep Guardiola's men are even more indestructible than famous Gunners side of 2003/2004
As the Manchester City juggernaut shows no signs of slowing up, research from Grosvenorsport.com has revealed that Pep Guardiola's side are well on course to bettering the incredible achievements of Arsenal's 'Invincible' team of 2003/2004.
The Sky Blues sit eleven points clear at the top of the table and undefeated in domestic football this season, and while City still have 20 league games to go before being crowned 'Invincibles II', the study shows City top the head-to-head stats table with Arsene Wenger's side after the same amount of games played.  
After 18 Premier League games, City have won five more matches, collected ten more points and have scored a remarkable 22 more goals than the Invincibles. They are level on clean sheets (7), while only conceding 12 – the same amount as the Gunners conceded that year after 18 outings.
While Arsenal hit 90 points in 2003/2004, Chelsea broke the Premier League points record the following year in Jose Mourinho's first season at the club. They finished on 95 points to lift the title, but Grosvenorsport.com can reveal City are on their way to trumping that record too.
Pep's team currently have 52 points – nine points more than Chelsea did after the same number of matches that year, and could be set to strip the Blues of another Premier League record – most goals scored in one season.
Former manager Carlo Ancelotti led Chelsea to the title in 2009/2010, scoring 103 goals along the way. However, City have scored more goals than Chelsea did after the same amount of games – 52 compared to the 42 the Blues had at that stage.
Steve Munns, Head of Sport Grosvenorsport.com, said: "Manchester City look unstoppable this season, and it's no wonder they are being likened to the famous Invincibles. However, Arsenal weren't even top of the table at this same stage in that memorable season, whereas City have more or less sewn up the title before Christmas.
"Arsenal started that season slower than City have this year – they only scored 34 goals after 18 games, whereas City have blown teams away by notching 52 times. Pep's side have an average of over three goals per game, and at this rate they will smash the record amount scored in one season too.
"'Is this City side better than the Arsenal Invincibles'? is a question that will be asked more often the longer this undefeated run goes on. And while it boils down to matter of opinion, if City can go the season unbeaten, break the record for goals scored and points secured along the way, it'll be hard to argue against this team being the Premier League's greatest ever side. It's 5/1 on City going undefeated in the Premier League this season and 10/11 for them to be the first team ever to reach the magic 100pt total in the Premier League."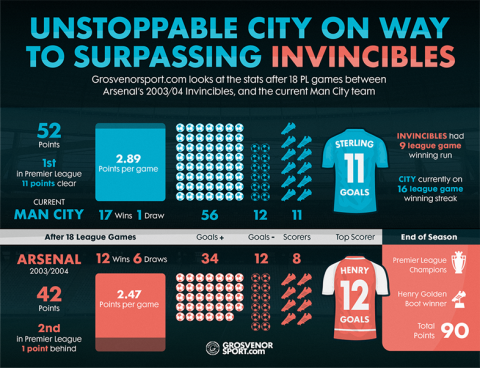 *Statistics based on same amount of matches played in Premier League (18) in 2003/2004 and current season