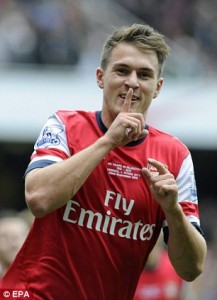 Aaron Ramsey turned up at London Colney for Unai Emery's first training session a few days ago, but Arsenal must surely have immediately called him in to discuss his thoughts on whether he was going to sign a new contract or not.
With the transfer window closing early this year before the season starts in early August, it is imperative that problems like this are sorted out before they become a problem.
None of us want a repeat of the Alexis Sanchez saga of last year which disrupted the first half of our season, and an open-minded discussion of whether the Welshman will be committing to a new long term contract or not. And then the Arsenal heirarchy can decide whether to let him go and spend the transfer fee on his identified replacement or even to let him run down his contract if that would work out cheaper for the club.
Doing that certainly didn't work with Sanchez, so I think that a deadline for a decision must be set before all the potential replacements are snapped up by other clubs. With the Premier League window shutting on August the 9th, that only gives us just over a month. Should we get a decision from Ramsey in the next few days or let him string us along?
Darren N