If Arsene Wenger was a little bit caught between sending Arsenal out with the intention of recording another famous away win at Borussia Dortmund or making sure the Gunners were solid, compact and hard to beat, the injury news for both sides should have helped to make his mind up.
While Arsenal have lost the more defensive left back Nacho Monreal and will replace him with the more attack minded Kieran Gibbs, Dortmund will have to do without their best centre back, Mats Hummels. Jurgen Klopp was hoping that World Cup winning defender would recover in time but Hummels has declared, as reported by The Mirror, that this clash with Arsenal has come too soon for him.
Without their defensive midfielders Gundogan or Bender as well, surely Arsenal will see Dortmund as a weakened animal and go for the throat, especially with all the pace and power we now have in the forward areas.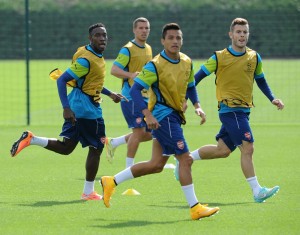 This picture from training yesterday could well show the front three and playmaker that Wenger will give the job of taking the game to Dortmund and exposing their defensive frailties, especially as we are not exactly set ip to defend ourselves. So hang on to your hats, Arsenal fans, this could be exciting.