Arsenal are yet to tie down Alexis Sánchez and Mesut Özil to new contracts despite their current deals both expiring in 2018. Stats released today by daily Fantasy Football game Oulala.com have revealed which player the club must keep hold of, if it was a choice between the two.
While Özil is reported to be waiting on the future of Arsene Wenger before putting pen to paper, Sánchez has regularly been linked with a move to a host of Europe's top clubs including Paris Saint-Germain and Atletico Madrid.
In such uncertain times at the Emirates, we have taken a look at a number of the duo's key stats in the Premier League since joining the Gunners in 2013 and 2014 respectively, to reveal which player's signature is the more important of the pair.
As Özil has been at the Emirates for a season longer and has made 15 more league appearances (100 to 85), our analysis in a number of areas has been made on a per game basis.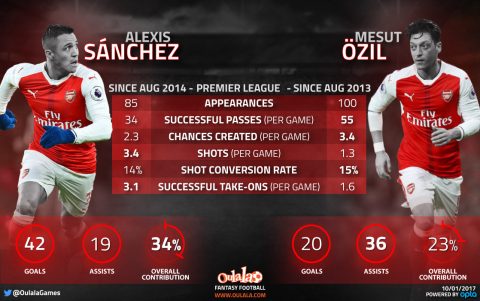 It's no surprise to see that the German averages more successful passes per game than the Chilean (55 to 34).
Again Özil comes out on top for creativity having created more chances (3.4) per game than Sánchez (2.3). This has led to almost double the amount of assists from the midfielder (36), compared to the forward (19).
Sánchez comes out on top when directly taking on opponents, averaging 3.1 successful dribbles per game to Özil's 1.6.
In front of goal Sánchez excels. The Chilean registers almost triple the amount of shots per game (3.4 to 1.3) and has scored double the amount of league goals (42 to 20). However due to Özil registering far fewer shots he narrowly edges Sánchez when it comes to conversion rates (15% to 14%).
Overall, Sánchez has been involved in 61 Premier League goals (42 goals, 19 assists) of the 180 Arsenal have scored since he joined the club in 2014, a contribution of 34 per cent. In comparison, Özil has had involvement in 56 of the club's 248 goals since he joined in 2013, a contribution of 23 per cent.
Having been involved in a third of all the league goals Arsenal have scored since he joined the club, the Gunners must make Alexis Sánchez their number one priority.
Do you agree?
Russell Cane