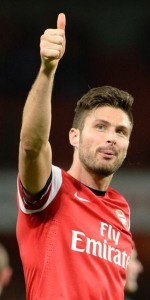 There seems to be an anomaly in the fabric of the Arsenal universe, with Arsene Wenger insisting that his contract rebels of Alexis Sanchez, Mesut Ozil and Alex Oxlade-Chamberlain will be forced to stay at the Emirates for the final year of their contracts, but Le Prof has also just insisted that Olivier Giroud, who only signed a new contract at the beginning of this year, has been given the freedom to decide his own future.
Wenger revealed his happiness at Giroud's 'decision' after the Leicester game. "It's fantastic." he gushed. "I must say I opened the door for him at some stage because I know that it's important for him to play, but I don't want him to go and in the end he decided to stay. It was one of the days of recent weeks for me because I know how important he is, not only as a player, he is a fantastic player, but as well in the group. He has a big weight in the squad and it was a relief for me that he decided to stay."
Giroud himself confirmed that it was his own decision as well, when he said: "To be honest, there was something in my soul and in my heart which told me to stay,"
"I have been hesitating because I am the most happy man when I play and I am on the pitch.
"I keep the faith and I still believe I can have an important part to play this season in the club.
So can you understand my confusion between Wenger's words on Giroud, compared to his statements on Alexis? It is obvious to everyone and his dog that Sanchez is refusing to sign a new contract because he wants to go and play in the Champions League, but Wenger is forcing him to stay against his wishes. How is that fair?
Darren N