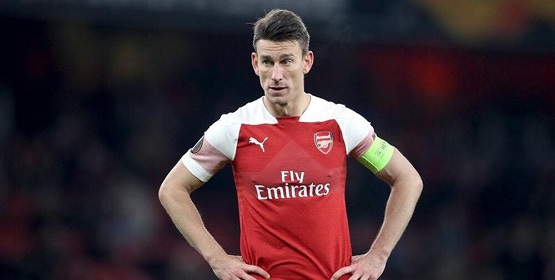 Counter-attacking an article written about Koscielny and branding him a disgrace – Eddie Hoyte
I've been busy for the past few days at the studio and hardly got the chance to follow transfer news happening. When I finally did, and went through my normal reading and updates of news around the world, Justarsenal was the last. What do they say? Save the best for last?
I saw the Heading of the article and I just let a faint smile and shook my head in shame, because first that heading itself is a disgrace if we consider the player we are talking about here. I knew something like this, an article like that, would pop up but I didn't think I'd be reading people judging the man labelling him a disgrace, Jon Fox coming out saying Kos Dissed us, and is an enemy to the club because of his actions and so many others, not forgetting, at the end of the article, Admin Martin went on to say he wishes him no good luck. All that for just because of football? Someone's career and life?
I'll never support the way Koscielny handled the situation, he could've attended training sessions and processed his transfer quietly, he could've done things differently and he made a mistake, a big mistake.
Quickly let's get into facts here, the man served nine years with us, gave us his best, loyalty, fight and body. Yes the club was paying him his salary and yes it was his job to give his best and fight for the club so he has no point?
Quick one! Arsene Wenger three seasons ago confirmed Koscielny was suffering and battling his Achilles Tendon injury, so he couldn't risk the player in every game so Koscielny mostly played on the weekends, while someone else filled in for him during midweeks. That's one big step taken to protect the man from running himself down. Arsene Wenger despite his flaws is one of the best managers when it comes to treating his players well with care, a thing which even I agree he might've done too much. Arsene Wenger saw the risks and knew the player was important, so he tried and managed Koscielny the best way he could, but unluckily Koscielny got that injury Wenger was avoiding and was out for over a year.
So the club treated him, and paid his salary while he was injured. People say the club paid him back by treating and taking care of him. Wait a minute folks.
While at work, If I got injured or an accident befell me while on duty at work. Wait a minute, am I supposed to be driven home and left alone for my wife to treat and take care of me? Is the company not meant to handle my treatment and medications til I get back in good shape? Why are we making it look as if he neglected his duty, only for the club to take care of him after he got injured while sitting at home watching Netflix. Why? Why do we feel it's okay to write off how he feels and what he decides go do with his life, just because the club paid his salary and took care of him while he was injured, INJURIES HE GOT WHILE WORKING FOR THE CLUB. What company abandons their staff when they get injured at the workplace? What civilized company ditches their staff at that point after getting injured while on duty? Why are we judging the man?
Still on facts, before recovering fully from his injury, before even Arsene Wenger got sacked. Koscielny publicly said he'd like to go back home soon. So he must've held discussions with the club, something must've triggered his behaviour. It ain't as if the man woke up one day and got a loose screw upstairs and decides he won't kick a ball for the club anymore. Why are we jumping at him, judging him like he did something terrible and unforgivable?
His fellow compatriot and ex-gunner gave an interview and said something must've happened between the player and the club before he could act that way. Is there any reason to doubt that's the truth? This is a player that has been a professional while playing for us, held together a shaky defense for most of the time, never agitated for moves, signed contracts without problems, turned down chances to join Bayern Munich and Barca while he was at his peak. A player who never complained about getting bumper salaries or acted like some of our previous players and suddenly should all believe he went rogue out of no where?
T.I once said in his song, "My good outweighs the bad, isn't that what really matters?" Where's the benefit of the doubts? We don't know the complete truth, yet we call him names and say he's an enemy to the club? We act like we have the right to be judgmental?
PEA pulled the same stunt at Dortmund, he did all of this while the season was on not even in pre-season like Kos, he did it while having his best season, unlike Koscielny who pulled the stunt now that he's passed it. PEA skipped trainings, missed matches because of it, acted unprofessionally, and there were reports about his bad boy attitude. Yet not a single soul on here questioned why we were going for a player who pulled the same nonsense Koscielny pulled recently. Not even you Jon Fox who called people stupid and idiots for their views. Not a single one of you blasted PEA and his actions at Dortmund, not a single one of you branded him a disgrace and saw him as something bad for our club. Yet suddenly we can all sit behind our keyboards and judge a man who is doing the same thing now just to go back home. How hypocritical is that? We humans tend to be hypocritical at some points in our lives, we only go for what's best for us.
Once again I'm not in support of the way Koscielny handled the situation, he should've done better, he made the mistake, I've accepted that long ago and I can boldly say I let it pass because of the player he was for us, because it wasn't something he has done before. A man is allowed to fall, a man is allowed to break down, a man is allowed to go astray at a point. We are men, not gods.
They are men first before becoming footballers, they're not some robots created to be perfect all their lives and never break down. The man is probably mentally and physically exhausted after so many years. He feels he doesn't have what it takes to play for us anymore, he feels he can't put up with the rigours of the EPL anymore, he feels he needs to go home. So we try to make sure he stays by demanding 10 million for him. If the tables were turned, Would Arsenal FC pay 10 million to sign a 33 years old injury prone player?
Personally I see it as a good thing anyway, at least he's forcing the club to get in a better defender and replacement.
Us fans talk about loyalty, we say he's not loyal, saying that about a player who has put his body on the line while suffering from a recurring injury he developed WHILE WORKING FOR THE CLUB is hypocritical!! So is he supposed to stay in the EPL until his body breaks down completely? Is he supposed to work himself to death just because he's working and getting paid?
He had no right to demand to go home for the sake of his own health? Are we going to pretend or act as if the French league he's going to will consume him more than the EPL he has been in? Should he have said oh "Arsenal never mind even though I got injured while working for you I'll treat myself, you don't have to do a thing because you pay my salary?" Would any of you do that in your various working places? I know lots of you will tag this as sentimental, but if we're to pay attention to everything and Arsenal wasn't being sentimental, Arsenal should never have gone for PEA because of this same silly stunt he pulled.So PEA's good outweighs the bad that's why we went for him isn't it?
I look forward to the new season, it's what I'm focused on now, I don't have the energy to burn on this Koscielny issue now that he's gone. He's gone and I wish him all the best he deserves, both in his football career, his family, his health and body. People say he threw away the club's Jersey, ridicules the club, again this is a man acting unprofessional for the first time, until the club or he himself comes out to give complete details, you and I have no right to judge him and call him names. I saw the said video and I don't see the offense he made in that video, you would've thought he threw away the Jersey, expecting he angrily threw it away, but it was his unveiling video and you could hear a voice loudly making a countdown from three to one before he took it off to show his new Jersey. Most of us are just inciting more anger against the man and trying to breed more contempt with how we keep saying he abused the club in the video.
I wish he handled things differently and all this ended differently, but that being said, I have no intentions or plans to disregard and cast off the man just because of one mistake he made.
All the best to each and everyone of us!
Eddie Hoyte
P.S: He released his statement at the moment I was writing this. Half of you already judged him, called him names, also pointing out he didn't even care to release a statement. Well he's done so, and like I expected and know, he admitted the discussion has been going on for months between, him, the club, coach and players. Yet all half of y'all could do was jump ship and judge a man based on articles and reports, without learning the truth. I think in fairness, y'all the real disgrace. The truth will finally come out someday, but it won't change a thing or my view about the man because of one career mistake he made.