In-depth analysis of the silver lining to Arsenal Women's ACL and injury crisis – both for this season and into the next. by Christine Allen
On May 4th, Arsenal's prolific striker Vivianne Miedema (known fondly by fans and players alike as 'Viv') posted a selfie on Instagram that caught the attention of her 439k strong followers.
The caption read  'At least we will all be in the gym together. P.S ACL group is full now, please no more.'
At least we will all be in the gym together 🩼❤️‍🩹

𝗣𝘀. 𝗔𝗖𝗟 𝗴𝗿𝗼𝘂𝗽 𝗶𝘀 𝗳𝘂𝗹𝗹 𝗻𝗼𝘄. 𝗣𝗹𝗲𝗮𝘀𝗲 𝗻𝗼 𝗺𝗼𝗿𝗲😢💔 pic.twitter.com/PvneNQRyBi

— Vivianne Miedema (@VivianneMiedema) May 4, 2023
Behind Miedema's rueful smile we see two of the most recognisable and accomplished female footballers in England, Beth Mead and Leah Williamson, flanking the fresh faced Laura Wienroither.
It is truly a case of a picture painting a thousand words, each having suffered, at varying times, an anterior cruciate ligament injury within the last eight months.
Arsenal's seemingly never ending run of misfortune this season has prompted some to speculate that the team are 'cursed.'
Both Captain Kim Little and striker Caitlin's Foord's hamstring injuries have not helped to dispel the narrative, while defender Steph Catley's consecutive injuries since March of this year have only rubber stamped this series of unfortunate events.
Starting with Women's 2022 Balon d'Or runner-up Beth Mead's "excruciating" ACL injury back in November of last year, there has been something almost other worldly about the way in which The Arsenal players have dropped.
In what turned out to be the third consecutive ACL injury of Arsenals 2022/23 season, Williamson's hammer fist on the Leigh Village pitch struck a blow to the Lionesses World Cup hopes, causing a nation to hold its breath.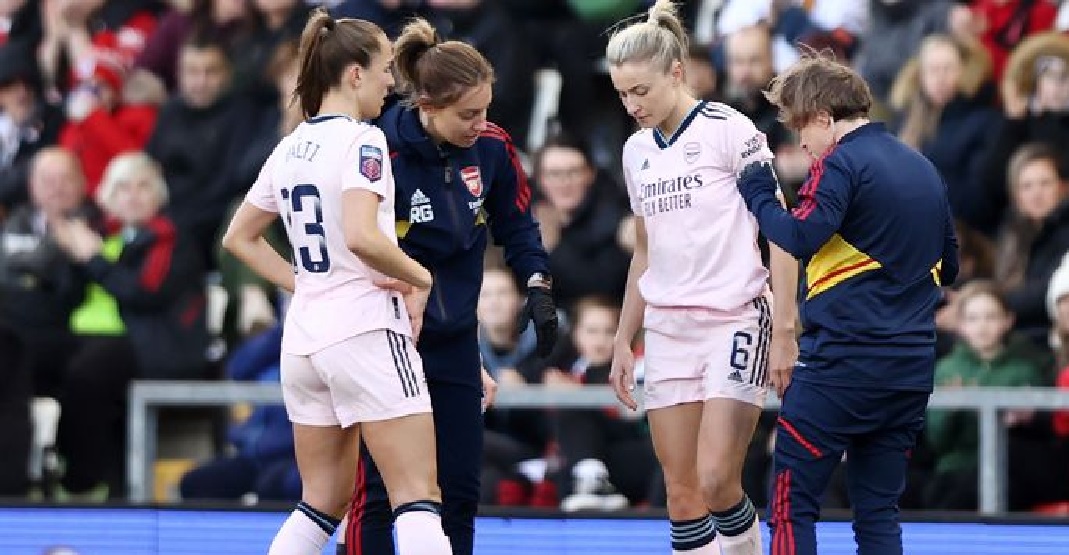 In the moments that followed, both players and fans alike analysed the replay of the Lioness captains unnatural knee movement across social media platforms. In hushed tones, people speculated that it was 'that' injury, the upcoming World Cup the elephant in the room.
Unfortunately, the news was as feared. Williamson would be out of action long term having suffered an ACL rupture.
While it goes without saying that nobody of sane mind wants a player to suffer the physical and psychological side effects that invariably follow any serious injury, and that solutions focused research  needs to be undertaken to understand the reasons behind women's seemingly unnatural susceptibility to ACL rupture and/or tear, can we take anything positive from the Gunners run of unrelenting bad luck?
In an interview with Sky Sports Football, former England and Arsenal striker Kelly Smith talked candidly about the loneliness and inner torment that she experienced following her own ACL injury.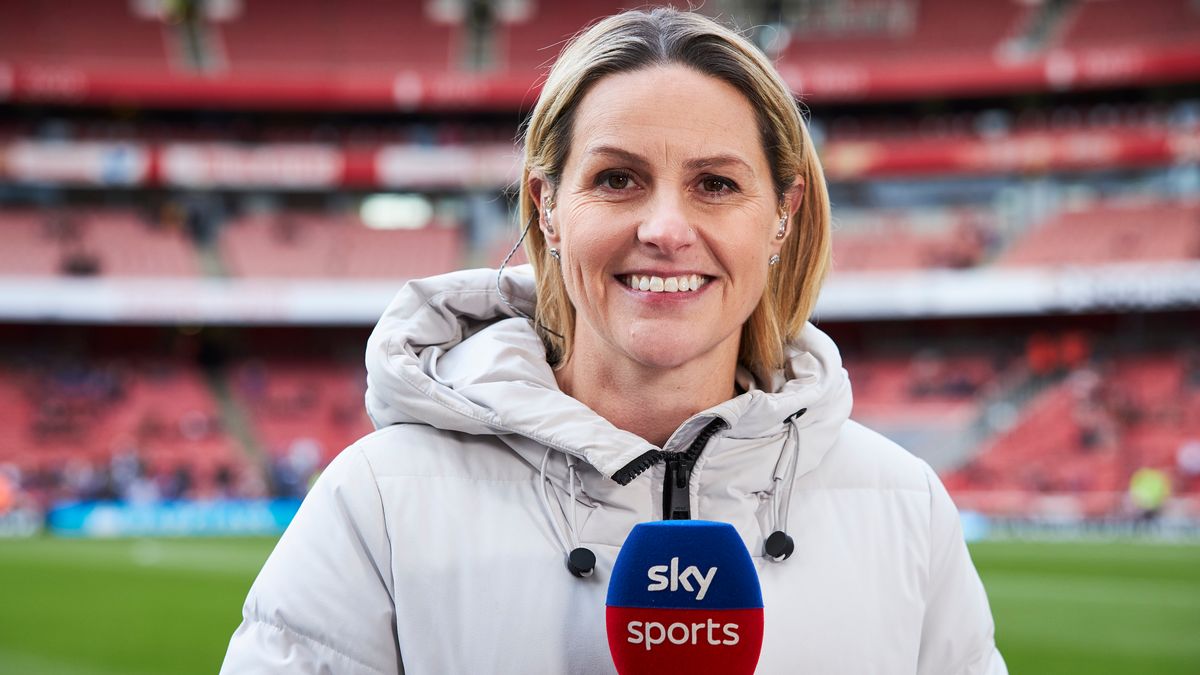 In stark contrast to the Arsenal players this season, she had nobody in a similar predicament to share both her physical and mental distress with. Smith, then based in the US, was very much alone, looking from the outside in.
"I couldn't be around my team coming back from my injury – it was hurting me so bad…I hate to say this but sometimes I wanted my team to lose because I wanted them to miss me," She confides to her Sky Sports colleagues. "I didn't know who I was. I was Kelly Smith the footballer. When that was taken away from me I hated myself. I didn't know how to be. It's such a hard injury to come back from and you never know if you're going to get to that level (again) or whether you're going to surpass it."
For the Arsenal, players (both injured and fit alike) have rallied and are regularly seen on social media supporting each other through the rehabilitative process, helping each other to understand process and frame the gamut of negative emotions and unavoidable loss of identity that Smith speaks of.
'You done good meisje, we building' Arsenal's number nine Beth Mead comments encouragingly when her partner and teammate Miedema posts a video showing Mead, a little ahead in her recovery, beaming as she jogs on an anti-gravity treadmill, while Miedema pedals (sheepishly – she is a little camera shy) on an exercise bike.
With no other injured players to lean on, Smith talks candidly in her autobiography 'Kelly Smith Footballer – my life story' about the frustration and isolation that she had to experience in the gym.
"Eventually I could get to training, but I couldn't train as I wanted to. Even worse, I had to be at the training ground earlier than the rest of the team so that I could start my rehabilitation work… I would see all the players getting ready for training and I would be laid out on the treatment table, barely able to move my leg…I was putting in the hours but I wasn't able to do what I was there to do.  What I really wanted was to be out on the pitch getting that buzz from playing. I missed that so much."
While the injured Arsenal players this season will have had (and will continue to have until close of season) deep regret and a sense of powerlessness at their physical inability to help their team in what has been the closest title race of the WSL since it's inception (not to mention a gutsy and nail biting European effort) they have at least had each other.
After every WSL and Champions League game, photos of the now familiar group of faces are shared across social media.
Huddled together in their black puffa jackets and beanies, they are often snapped  conversing in the Borehamwood stands, encouraging their teammates on and off the field, both pre and post match.
"They've really stuck by us and been available for whatever we need," Steph Catley, when back to match fitness in early May, told Sky Sports. "They've been helpful on game days, they're constantly watching the games, they're giving us advice and trying to help us from the sidelines as much as they can."
In recent weeks, given their progress with their individual recoveries, both Mead and Miedema have been seen tentatively passing a match ball pre kick off (much to the fans delight), playfully teasing the coaching staff when they, out of genuine concern, chastise them.
As a collective, captain Kim Little who has just recently signed a new contract, believes that the adversity that has struck the team this season has also brought the squad closer.
Looking back, Little told The Guardian's Suzie Wrack, "There's been different things this year that have brought this team together…theres a lot of elements that are not football-based that can just give you a bit of perspective. What Beth has been through with her mum [who died of cancer in January], Beth and Viv's injuries, other injuries, Jen [Beattie]'s cancer battle previously, and then there's lots of underlying things that not everyone sees."
"That's maybe been a part of [why] we always give our best" she adds. "but maybe it's put a little bit more fire in the side, I think that's natural when things like that happen."
The knock on mental health benefit that comes with being 'all in it together' has a scientific basis, according to findings from new research published in Psychological Science, a journal of the Association for Psychological Science.
The research suggests that, despite its unpleasantness, pain may actually have positive social consequences, serving as a form of "social glue" that fosters cohesion and solidarity within groups.
This bond has extended beyond the circle of injured players and the squad as a collective and has strengthened the sense of community and togetherness within the Arsenal fan base.
The continued dedication that the players this year have invoked can be seen in fan art such as that from instagram fan page The Art From The Arsenal which features cleverly portrayed cartoon like drawings of the players based off of their most recent social media posts.
Its latest piece features Alex Scott and Leah Williamson. Williamson, steadied by a crutch, flips the peace sign on route to her ACL surgery. Testament to its meaning to the players, it has caught the attention of both of the aforementioned.
🥹🥹
(@artfromthearsenal – instagram) pic.twitter.com/yhEPdTqk3G

— kacey ❤️🤍 (@kaceyslionesses) May 12, 2023
While the injured players still have some way to go before it will be deemed safe for them to return, the support that they have given to each other throughout their recovery will be even more crucial when slowly but surely, each returns to the field.
As Smith so articulately states, playing again will bring its own set of worries and challenges.
"I didn't know if I could do it because mentally it was getting too hard for me now, after all the injuries…there was this fear at the back of my mind that I was going to get crocked again."
The risk of re-injury is always there and is not an irrational one – an unfortunate fact that Manchester United's Aoife Mannion knows all too well.
The former City player ruptured her right ACL in October 2019 against Atletico Madrid in the Champions League.  On returning to play, she was admittedly terrified of it happening again – and it did.
It is this risk of re-injury that may be the decisive factor in England manager Sarina Wiegman's decision on whether or not to include Beth Mead in the squad for their 2023 World Cup campaign, irrespective of her physical fitness.
Despite a determined Mead's assertion that she is "ahead of schedule", the World Cup may still arrive too soon for her to make a safe return.
Fan and nations favourite, Meado, will need her team-mates to support her through what will be a summer of mixed emotions if this turns out to be the case.
Thankfully both her AWFC teammates and fans would appear to be more than up to the task. And won't it be great when they all come back next season determined to help each other to take the club to the next level…
Christine Allen who is a member of the Dublin Arsenal Supporters Club.
Follow Christine on Twitter.
Do you want to read more about the Arsenal Women's Team? Follow Just Gooner Women on Twitter for regular updates on the Gooner Women!