Arsenal look ready to begin their onslaught on the league title by DH
With the pre-season off to a flying start Arsenal already look ready to start their Premier League campaign and mount a serious offense on the title.
After a fantastic end to last season, the signing of a highly experienced goalkeeper, pre-season form, and the possibility of a big name striker, fans will be salivating at the prospect of things to come. Here's a look at why Arsenal can win the Premier League this season and we can get the big bus again!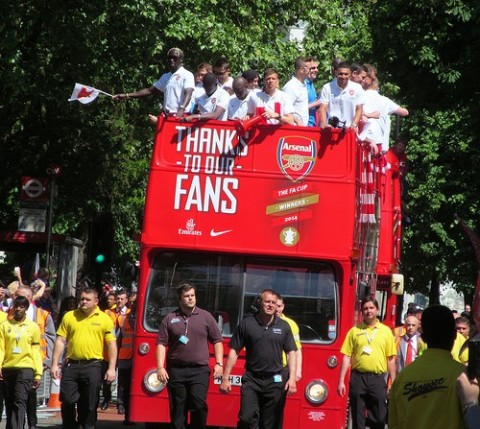 End of last season
The Gunners ended last season on a high, with a third place finish in the league, and an FA Cup win for the second year running. Their form towards the end of the season was blistering and they looked like a team to be feared. Last year's new signing Alexis Sanchez could possibly be the most promising player that Arsenal have acquired in years. He stormed into the Premier League and racked up 16 goals and 8 assists in 36 appearances for the Gunners, quickly becoming one of the best midfielders in the league. Already rivaling the likes of Eden Hazard and David Silva in his first season in England, Sanchez looks destined for big things and will be a key part of Arsenal's forthcoming onslaught on the title. Though he is set to miss at least the first week of the new season, when he comes back he will have opposition defences quaking in their boots.
Petr Cech
Last season Arsene Wenger couldn't seem to choose between David Ospina and Wojciech Szczesny as to who should be in goal. And neither really looked like title winning goalkeepers. Wenger addressed this issue early in the transfer window with the signing of Petr Cech and it's looking like the highly experienced Czech international will be the number one choice between the sticks from now on. Cech has already won the league, the domestic cups and the Champions League and will be an excellent addition, commanding the team from the back. John Terry has already said that this was a superb signing for Arsenal and he could help them win the league.
Theo Walcott
Although he missed most of last season through injury, Walcott made a few appearances towards the end and reminded everyone just how deadly a strike force he can be. He only played a total of 447 minutes in the 2014/15 campaign but still managed 5 goals and 1 assist. For the past two years Walcott missed pre-season though injury, but this year he is with the club and playing regularly. Everything seems ok injury-wise as well and he looks fit again, touch wood. The last time he was fit throughout a full season was during the 2012/13 campaign. He was on fire then, and racked up 14 goals and 13 assists in the league. If the England international can hit this kind of form again, Arsenal will be a serious threat. He has already scored in pre-season and has said in interviews that he plans to target 20 goals this season. Arsenal fans will be hoping he will be true to his word.
Great Cohesion
Not only has Walcott been showing flashes of the brilliance that he possesses (see above) during pre-season, a few other players have been making their cases for regular starting positions known. Alex Oxlade-Chamberlain has looked threatening, showing his versatility and ability to play in various positions, along with producing a serious goal threat. Jack Wilshere looks fully fit again and could be a very important playmaker in the centre of the park. Now that Mathieu Debuchy has also returned from injury, he will have to fight with Hector Bellerin for the position at right-back, as Bellerin proved that he was more than up to the task in the latter stages of last season. All this competition for places will help the players keep sharp, and inspire them to look to improve their game even more.
Cech stated in an interview recently that Arsenal show great team spirit, and work really well together. This cohesion has shown through their pre-season matches so far and it puts them at a distinct advantage over teams who are still busy in the transfer market. Teams such as Manchester United have made some excellent looking signings, but they need time to gel together as a team. Arsenal are already way ahead in this regard.
The way things are looking, the Gunners seem almost ready to be serious title contenders. There may yet be a few final pieces to the puzzle though. Wenger has been known to pull out some surprise signings from the hat over recent years, and pundits are speculating that a new striker could be on the cards.
Possibility of new striker
On his day there is no doubt that Olivier Giroud is a great striker, the problem is he just hasn't been consistent enough for the Gunners. This is why many are saying that the signing of a new out and out goal-scorer could be the final piece of the puzzle, and the key to Arsenal lifting the Premier League title again after all this time. Rumour has it that Rafa Benitez may be looking for a new striker at Real Madrid to stamp his own image on the team, which could mean that Karim Benzema will be on the move. Speculation over this happening is so great, that at the time of writing Betfair have the French striker at 6/4 to join the Gunners during this transfer window. Fans will be hoping that this is a deal that comes to fruition, as Benzema is a highly experienced forward who has won a plethora of trophies.
Benzema has scored 87 league goals in 188 appearances for Real Madrid, but it is not just his eye for goal, but his movement in the box (see above) that leaves opposition defences in disarray. There is no doubt that this would be a great capture for Wenger.
With only a few weeks left until the new season begins, these are very exciting times for Arsenal.
by David Holt
London