We all know Arsenal's form at the Emirates has been outstanding this season, not having lost a League game since the opening day, but we haven't fared so well in our cup games having been knocked out of both cups at home, thanks to Man United and Tottenham. We may consider Rennes to be nowhere near the class of those two teams, as they are only mid-table in Ligue 1, but the fact is that they started the season very badly and only won 3 of their first 11 games. Since then they have been climbing back up the table and since early December they have been incredibly formidable, especially at home.
Here is their home record in ALL competitions….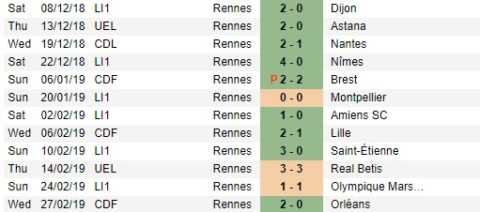 In fact over the same period they have also only lost 3 away games, and one of them was at PSG. So Arsenal fans can't just look at their League position and expect an easy game, especially as we are sure to see a lot of rotation in our side.
But just concentrating on Thursday's game, let's compare Arsenal's away form over the same period, since early December…



So I can't imagine Rennes looking at our away wins against Blackpool and Huddersfield and thinking they are in for a hard game can you?
All I'm saying is that we simply cannot be complacent, especially as they progressed to this round by beating Real Betis 3-1 in Spain. In the form they are in, they have as much right to think they can win this competition as we do….
Be careful out there!
Admin