The matchday squad for Arsenal's Europa League visit to Eintracht Frankfurt has been released and it is rather interesting.
There is no spot for Mesut Ozil and Sokratis, however, there is a place for Rob Holding and Shkodran Mustafi.
This raises the possibility that Rob Holding and/or Mustafi will start the game against the Bundesliga outfit. I am not sure why Ozil has been left out, he hardly needs a rest, as for Sokratis, it looks like he has simply been dropped.
If Unai Emery does confirm that Ozil is being rested I am not sure that will go down well, he has played less than a full game this season and it will raise questions I am sure.
No doubt it will be reported that Sokratis is being rested, which I am sure he needs after his performance against Watford.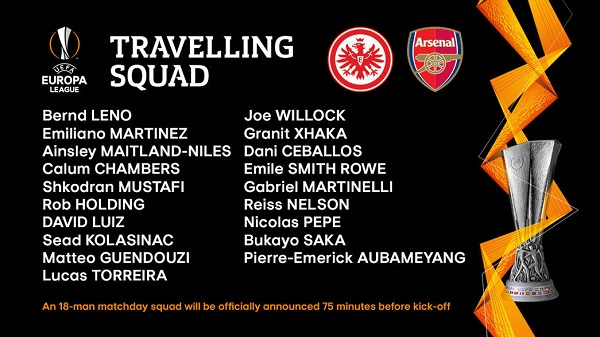 It is noticeable that Emile Smith Rowe and Bukayo Saka have also been included though one of them may be left out once the 19 man squad has been reduced to 18 as per Uefa rules.
This is a strong squad and there is room for Unai Emery to make significant changes from the side that drew 2-2 with Watford Sunday afternoon at Vicarage Road.