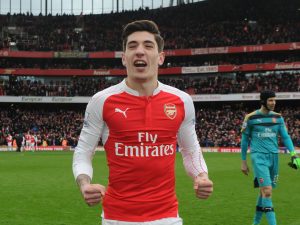 Hector Bellerin is right about the press and the pundits. When we lose it is always our fault but when we win it is always because the opposing team played badly. The coverage of the Everton v Arsenal game at the weekend is a good example. We played some brilliant football at times, creating numerous chances, and could have scored many more than two goals even before Everton went down to ten men. Yet the press coverage was all about Everton's poor performance.
Bellerin said: "It doesn't matter how we do, if we win it is always the other team's fault and when we lose it is always our fault.

"We have just got to deal with it as we have been doing, play our game and show that we have got the potential, that we can win games like this one.

"I think everyone has seen that."
There is undoubtedly bias in the media against Arsenal and against Arsene Wenger in particular. Many journalists and pundits have openly been calling for Arsene to go for several years now and for some it has almost become a point of honour to see him dismissed. Yet despite their efforts to destabilise the club Arsene has been given a new contract. So when we play well they are reluctant to give him any praise and when we play badly or lose they are happy to blame him for the players' performance. He is quite literally the only manager in the Premiership who is not allowed to lose a game.
Steven Rose