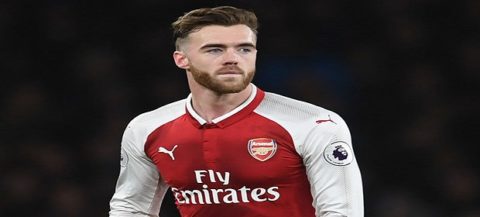 Is Chambers The New Defender? By Dan Smith
When we were leaving Baku, it seemed inconceivable that our back 4 or 5 for the next August would somehow be weaker. Yet it does appear, even with Koscielny on strike, that we will not be buying a centre back.
With a year left on his contract, Emery is gambling with his job if he maintains that there are zero options out there better then what we have. At Mustafi's, Monreal's, etc, age he can't suddenly expect a dramatic improvement? Why would the same individuals now have the leadership skills not to fall apart away from home?
The only two young enough to coach into a better defender is Holding and Bellerin and they could be out till Christmas. Which brings us to Calum Chambers…..
A year ago, I asked 'was he loaned out for his development' or did his new boss simply not rate him? The fact we are not even thinking about replacing our captain surely gives us that answer. If we had paid 20 million for Fulham's Player Of The Year would we be content?
It's still an option we didn't have 12 months ago, we simply didn't splash the cash for him. But did he do enough at Craven Cottage? In my opinion he can't be worse than what we have. Like Holding, I think he's comfortable on the ball enough to get better. I like the idea of having 2 British payers at the back who could be the heartbeat of a new Arsenal. What Chambers is yet to show is does he have the personality to cope with adversity? Does he have the mentality to cope with the pressure of playing for a top side? I rate him but not enough where I think our previous issues will be resolved.
If we miss out on Champions League qualification next season again based on poor defending and Emery has done nothing to address it, it could be a sackable offence…..
Dan Smith