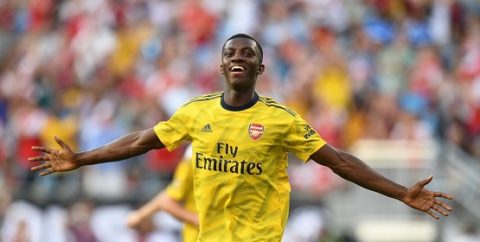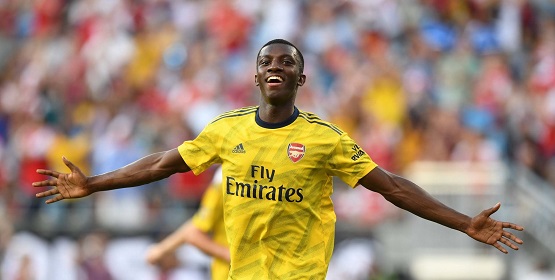 Arsenal have had many prolific scorers come up through the academy only to fail when it came to the biggest stage, but our latest goalscoring sensation Eddie Nketiah seems to taking the step up in his stride so far. At just 17 years of age he scored 27 goals for the Arsenal U18 and U23 sides, and was quickly promoted by Arsene Wenger to join the first team squad.
He hit the headlines when coming on as an 85th minute sub in the League Cup against Norwich and within a minute he had scored our equalising goal, and added the winner in extra time. He also scored in our last game of the season against Burnley, and also started this season in spectacular style with four goals in our pre-season games.
Although Emery wanted Eddie to stay with us for the season, it was decided that he would be better going out on loan to gain regular game time, and the player himself helped choose his destination. "The manager wanted me to stay so it's really confidence-boosting for me that he had me in his plans,' Nketiah said in the Mail.
"But I felt like it was a good step for me to come to Leeds. I hope it's a good year that can leave me in good stead going back to Arsenal to fight for a place.
"There were a lot of options, there were options for me to go to Germany but me, my family and the club decided Leeds was the best place."
The now 20 year-old carried on his form straight away and has already scored three times for Leeds, despite being second choice behind Patrick Bamford, and he believes that he is improving under the mentorship of one of Arsenal's legends, Ian Wright. "I feel like in the last year or so he's started to communicate a lot more,' Nketiah said. 'He messages me, asks me how I am, how I'm finding things up in Leeds.
"It's a dream come true to have one of your heroes speaking to you. It's about expressing myself and (giving) tips for being a striker. It's been like an arm round the shoulder, being nice and friendly, comforting me, seeing how things are going."
It is obvious that things are going really well for the youngster but it must be fantastic to know that a legendary striker like Ian Wright has faith in you and wants to help nurture his brilliant talent. Could Eddie become our new Ian Wright in the future?
Admin