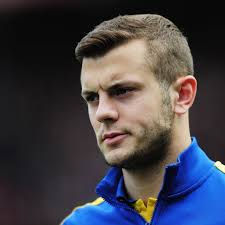 Jack Wilshere has spent this whole season trying to persuade Arsene wenger that he is fit enough and good enough to play for Arsenal as a first-teamer, while waiting for the Boss to offer him a new contract. Even in November, before he broke back into the starting XI, Jack was insisting that he intended to stay at the Emirates. He said, "I've got a great relationship with the boss, I've heard him speak in press conferences he's ensured me I will get some playing time.
"I want to stay at this club, I've said that many times.
"I left last year to get some football, I've done that and I'm back now and I'm fit and ready to play.
"The future will take care of itself. All I have got to do is stay fit and play my football."
Wenger continually said that Wilshere's contract would be sorted out before Christmas, but Jack was still waiting for talks to begin when the New year arrived and he was firmly back as a regular for Arsenal, then the bombshell arrived and Wilshere was offered a wage reduction as maybe Wenger was hoping that Jack's loyalty and love for the club would see him sign without even looking at the small print, but now we are at the end of February with still no resolution in sight.
Today Wenger explained that the contract was on the table, but Wilshere has still not decided to accept his terms. Le Prof was asked if he was still hopeful. "Yes," he replied. "But the decision belongs to him. At the end of the day you have to respect the decision of the player. Our desire is clear, is expressed, is numbered and after that, the player has to find satisfaction as well."
That is certainly not a positive update, and with rumours that Jurgen Klopp wants Wilshere to join the Ox at Liverpool and there are bound to be many other interested parties that would love to give Jack a big signing on bonus as a free agent, I am getting the feeling that Jack will be beginning a new adventure next season….
What do you think?
Admin