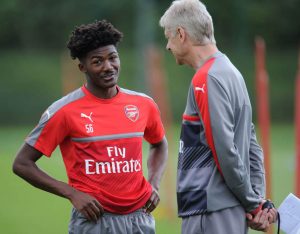 Arsenal's newest first team player, Ainsley Maitland-Niles, has impressed the Boss enough in the last few years to persuade him to play him on a more regular basis, and the 20 year-old feels that it is Wenger's advice that has given him the confidence to compete with the more senior players.
"The more you go over to train with the first team when you're young they get to know you more, see what you're about," Maitland-Niles told Arsenal.com. "They get to trust you more and then you start having little conversations with the boss then and there and you can ask him things, what he thinks you need to improve on, and he will tell you the honest truth.
"The best advice he's given me is just to be confident in myself, play with no barriers up and show what I can do. He's also helped me with my ball winning. He told me I have the ability to do so if I put my mind to it and just really focus on those sorts of things. He's told me not to be so relaxed in games and really go for it, and I think I've been putting it into work more and more recently."
Ainsley has been an ever-present in our Europa League and Carabao Cup sides, and has now started twice for the first team, although for some reason Wenger keeps playing him in different positions for him to learn his trade.
The boss said about Maitland-Niles: "Certainly his focus is better," Wenger said on Arsenal.com. "I think at the start of the season, the fact that I used him in defensive positions maybe made him realise that there's no opening where he dreams to play but there could be an opening where he doesn't dream to play.
"It takes you a while to adapt and to realise sometimes as well that you have the needed qualities to play in these positions. He is thinking like a defender and that's what you want from him.
"It's the quality of concentration. He has huge physical qualities as well. His recovery runs are good, he's good in one against ones. Of course the challenge is to continue to develop, to continue to improve. He has a lot to do but when you get a chance in life, take it. That's what you want from him now."
Has he done enough to persuade you that he is an Arsenal star of the future?
Admin