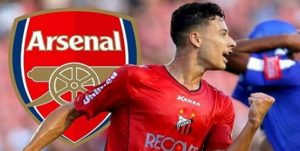 Despite the Gunners being linked with every available bargain player and his dog, the only likely confirmed Arsenal transfer we have so far is that the youngster Gabriel Martinelli will be joining us next month when he turns 18. The journalist Nicolo Shira from Gazzetto Del Sport announced on Twitter…..
The first purchase of #Edu for #Arsenal will be an amazing young talent: Gabriel #Martinelli. #Gunners have agreed a deal which will see the brazilian striker arrive in the summer from #ItuanoFC after he will turn 18. #transfers #AFC

— Nicolò Schira (@NicoSchira) June 2, 2019
He seems convinced that this is a done deal and talks have been going on for months (surprise!). The young Brazilian is playing for Ituano in Brazil and is said to be recommended by Edu, who is also said to be joining Arsenal later this summer. The fact of tañks with Arsenal was first revealed at the end of March when his agent agent, Marcos Casseb, told reporters: "We expect this move to happen. The plan is for Gabriel to go straight to Europe and he will play for his dream club."
So it all looks pretty straightforward and on the 18th June Martinelli turns 18 and will be eligible for an Italian passport thanks to his family heritage, so a work permit for Arsenal will not be a problem.
I have found this video where you can see his quality….
He has been rumoured to be costing us 7 million, which may not sound a lot in this day and age, but is a lump off our reportedly very low transfer budget. So can we expect to see a lot more "promising youngsters" and "ones for the future" at very low cost to the club this summer?
Admin