Arsenal v Man City Stat Attack by Russell Cane
Mesut Ozil has been a shadow of his former self for Arsenal this season. While at Manchester City, Leroy Sane has enjoyed an impressive debut campaign in the Premier League under Pep Guardiola. The pair go head-to-head this weekend and despite their contrasting seasons, our stats at Oulala.com in fact reveal that the in-form Sane still falls well short of the out-of-sorts Ozil.
Statistically, when compared against himself, Mesut Ozil is undoubtedly having his worst season in an Arsenal shirt.
The German is averaging fewer passes per game (62) than in any of his three previous Premier League campaigns (65, 64 & 63). His pass completion (87%) has been lower than in both 2013/14 and 2014/15 (both 88%). While he is also making fewer key passes per game (2.8) than ever before (4.2, 3.1 & 2.9). The stats go on to show that Ozil is down for dribbles per game (1) this season too compared to previous years (1.3, 2.4 & 1.7).
However, despite Ozil's poor form, he has still comfortably beaten the impressive Leroy Sane in nine key areas this season. The 28-year-old is averaging more than double the amount of passes per game than the 21-year-old and with a far superior accuracy. Ozil is also outperforming Sane for key passes, crosses and shots, while he has won more set-pieces and has been dispossessed less.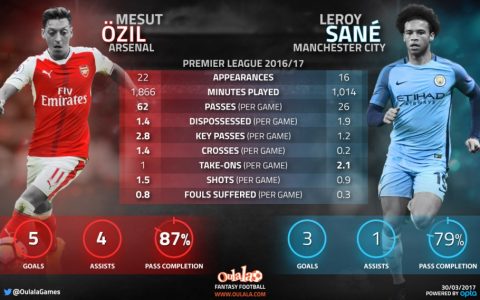 Although Ozil has played over 800 more Premier League minutes this season than the Man City man, our analysis shows that he has directly been involved in a goal, on average, every 207 minutes, compared to Sane's 254 minutes.
The stats suggest we're either getting far too carried away with Leroy Sane or the criticism Mesut Ozil is receiving is actually undeserved. So which is it?
Russell Cane