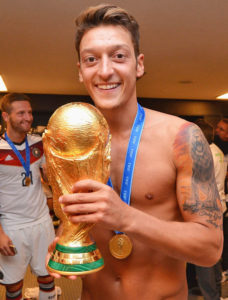 Arsenal have just had their worst season for 22 years and it looks like that bad run has carried on to the few of our players that have gone to the World Cup with their respective national teams.
Granit Xhaka and Stephan Lichtsteiner have played well with Switzerland but they have both been embroiled in controversy over the Kosovo flag situation. Alex Iwobi was rubbish (surprise!) and was dropped for Nigeria's next match, and Monreal and Danny Welbeck haven't even got on the pitch.
But what about our 'superstar' Mesut Ozil, who was also involved in controversy in Germany about the being snapped with the Turkish leader before the competition, but he started in the first game which ended with the Champions being beaten by Mexico, and he was subsequently dropped for the match against Sweden. It remains to be seen if he plays any more part in the competition but his team-mate Marco Reus is convinced he is still one of the best. Reus said: "We are one team, on and off the pitch, no matter what they say,"
"It just shows that Mesut, despite not playing, is with the team, and is there for us.
"He's just an extremely important player for us.
"He's one of the best players in the world, and I am more than convinced we'll see him in this tournament again."
We all know Ozil has been the German Player Of The Year five times before, but I'm not sure if nowadays even most Arsenal fans will agree with Reus, never mind the population of Germany! So what is the verdict from the population of JustArsenal?
Is Mesut Ozil still World Class?
No - He is just a normal player now (51%, 205 Votes)
Yes - He as good as ever (49%, 199 Votes)
Total Voters: 404
 Loading ...