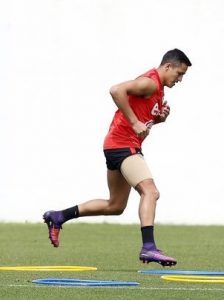 As you can all see from the picture, the latest news from South America is that Alexis Sanchez is back in training, despite his hamstring injury.
For some reason he has a bandage over the injured area, but how that be of any help for an internal injury I am failing to grasp, unless it is a reminder for him to take it easy.
So from this we would have to guess that the Chilean manager is hoping that Alexis can run this off and still play tomorrow in the Crucial World Cup Qualifier against Uruguay. This could be thought of as good news for Arsenal fans, as perhaps the injury really is very minor and won't affect his playing, although I doubt very much that Arsene Wenger will be thinking like that!
Le Prof will be thinking that this is very bad news. I am absolutely certain that if he was back at Arsenal, Wenger would have immediately whisked him into the treatment room for intensive tests and ordered to have complete rest until he was certain that there was no danger of a relapse before he puts him back in training, never mind into a game.
We all know what happened last season when he was played with a minor hamstring injury. He missed nearly two months of games for Arsenal. And even then he didn't return to his best for another month after that.
So, what do you think? Is it good or bad news?
Darren N