Has Ozil's social media confirmed he isn't a fan of Giroud? by AH
There is a general belief amongst Arsenal fans that whilst Arsenal players Mesut Ozil and Olivier Giroud are sure to be friends, they may not in fact get along on the pitch, with Ozil apparently not entirely convinced by the Frenchman's footballing ability.
On 22nd December 2015, Ozil had just picked up his 15th assist of the Premier League season and needed just a further six assists over the second half of the season. Ozil therefore had 19 games to break the record with another six assists needed for the German. But the record seemed more than likely to be broken in his form at the time. However, unfortunately for Ozil, Olivier Giroud had other plans and the French international went on a barren scoring run in which he was dreadful in front of goal.
Ozil ended the season with 19 assists, a fantastic feat for the player but majorly disappointing considering the attacking midfielder's performances over the first half of the season. Ozil's recent social media activity on Instagram has caused a few questions to be raised about his relationship with Giroud on the pitch, with the German 'liking' a rather controversial picture about his Arsenal teammate. Although social media can sometimes cause misunderstandings and be a case for exaggeration, Ozil's 'like' of such picture, which can be seen below, does suggest that perhaps he is not so keen on the Frenchman's scoring ability.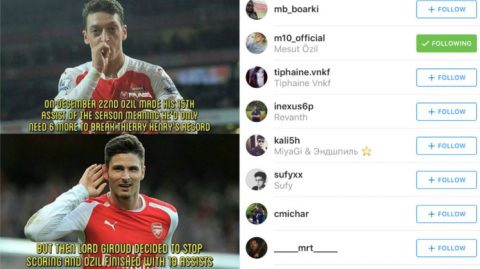 It will once again spark debates that if Arsenal do not sign a big name striker for Ozil to feed with assists, then we could see the German international become even more frustrated, so much so that he may consider his future at the club. The German has already made it clear that he won't discuss a new contract until after the Euros, and has made it clear that he expects some big names coming in this summer. Ozil does deserve to play with a striker that has a much greater scoring ability than Giroud, considering the amount of chances created by our playmaker, and Arsenal overall need a lot more from their man up front if they want to achieve ambitions of the title.
Arsenal have already wrapped up the signing of Granit Xhaha, although it is yet to be confirmed on Arsenal.com, and will now hopefully turn their attention to a new striker. Both Juventus' Alvaro Morata and Everton's Romelu Lukaku are supposedly major targets for Arsene Wenger this summer.
BY AH