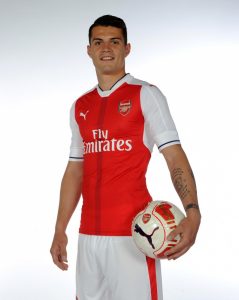 The Arsenal midfielder Granit Xhaka caused plenty of cheer from the Arsenal fans when he made his move to North London from the Bundesliga. However as of yet, he's been unable to really get into the side, with Wenger sticking to an experienced Premier League midfield.
Xhaka hasn't come out to state his unhappiness at trading in the captaincy at Borrusia Monchengladbach for a bench role with the Gunners. In fact manager Arsene Wenger has now revealed that Xhaka is being very professional about not nailing down a starting spot and that he's working hard to cement a place in the team.
Wenger said: "I'm very happy with Granit's commitment. I think he's developing well. He hasn't maybe started enough since the start of the season but he is adapting to a different league, a different way of playing."
"Overall I'm happy because every day he's focused on working hard and I'm confident he'll get his number of games."
I don't think Xhaka should be worrying about not being able to obtain a starting role in the team just yet. As Wenger said, the Swiss international is still adapting to a very physically demanding, fast paced Premier League and so it's not easy for any player to make the instant transition from one club to another.
It also doesn't work in Xhaka's favour that the Arsenal team is packed full of quality midfielders all competing for two central midfield positions on the pitch. At the moment Wenger seems keen to stick with the Coquelin and Cazorla pairing, but with the Spaniard out injured, this may be Xhaka's chance to get in the team.
Wenger may have made Xhaka one of the most expensive transfers of the summer, at a reported £35 million, however there's no pressure on the midfielder to have an instant impact with the side and the fans will just be hoping to see more from the number 29 in the near future.
By AH