When Victoria Pelova joined Arsenal Women from Dutch giants Ajax in January 2023, Jonas Eidevall admitted, "I think our supporters are going to love watching her in an Arsenal shirt."
Months later, the Dutch women's international has demonstrated why Jonas Eidevall was so excited about her signing, as she has been a hit with the Gunner women.
Leicester vs. Arsenal 
Winning Player of the Match, Victoria's 5 star performance in midfield in Arsenal's 6-2 comeback triumph over Leicester last weekend was without a doubt her most defining moment. She scored and assisted twice in that great triumph, which was exceptional. Notably in that game, she brilliantly filled in for the injured Kim Little, who had played every Arsenal WSL game this season.
Much was stated about Pelova after that game, including that she could be the heir to Arsenal midfield veteran Kim Little. Kim Little is without a doubt one of Arsenal's best ever midfielders, and her dependability has never been called into question. Little has made about 300 appearances for Arsenal, scoring approximately 160 goals. The 33-year-old is one player the Gunners have relied on to make game-changing contributions, but Pelova's performance against Leicester proved she can also develop into a player the Gunner women can rely on to make game-changing contributions.
Pelova, like Little, can play as an attacking or defensive midfielder. She, like Little, can single-handedly impact the outcome of a match.
"She [Pelova] was the playmaker in that midfield, she ran everything through and she's a big reason as to why Arsenal won that game," Tottenham striker Bethany England told Sky Sports after the game
Looking at this season's stats (below), I believe Pelova can be a fantastic asset to Arsenal. She simply needs to improve her defensive game, and who knows, she could be Little's heir in the long term. She has previously stated how inspired she is by Kim Little and hopes that in the coming years she will be able to learn from her teammate and possibly replace her in the long term.
"I think it's really beneficial for my development to be training against some of the very best players in the world," Pelova told club website Arsenal.com, shortly after joining the club in January.
"Kim, for example, is so talented technically, but she's also such a physical player, I love her playing style," she added.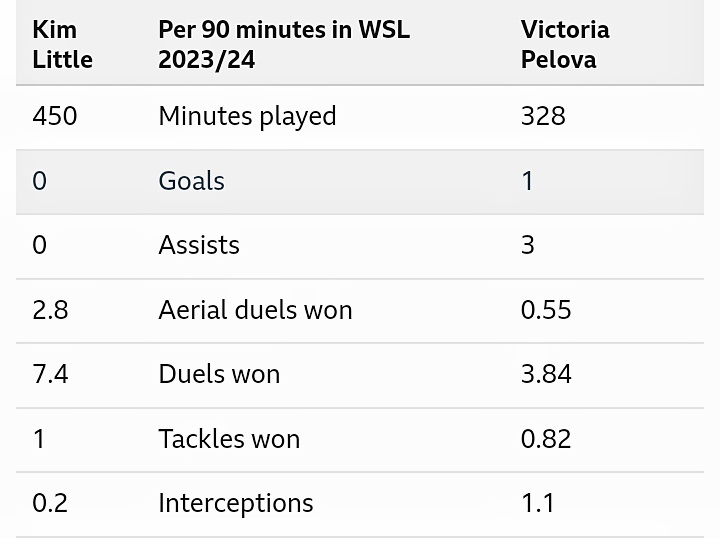 What do you think Gooners? Is it a natural progression for Pelova to replace our Kimmy?
COYGW!
Michelle Maxwell
Follow JustArsenal's Gooner Women on Just Gooner Women on Twitter for regular updates on the Arsenal Womens Team!
Do you want to read more about the Arsenal Women's Team? Click here….