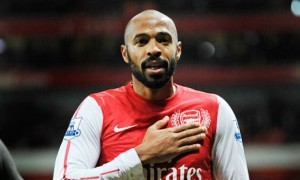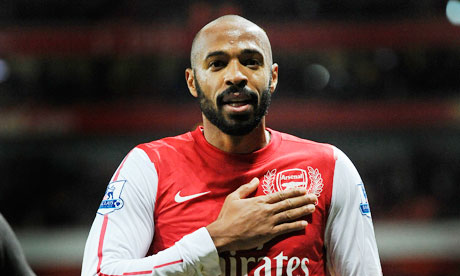 With the latest rumours saying that the Arsenal Board are aiming to offer Arsene Wenger a new two year extension to his current contract, keeping him at the club until 2019, it is interesting that Le Prof has recently given Thierry Henry and Mikel Arteta jobs coaching our academy players.
There are very few Gooners that would complain if Thierry Henry was given the job in the future, but he is now on the first rung of the ladder. Henry himself has admitted that he is trying to teach the youngsters "The Arsenal Way", he said: "At the moment I am the assistant of the assistant of the under-18s coach!"
"They are allowing me to come and learn about the process of being a manager and to take some sessions sometimes.
"I'm learning the process – that's all you can do. I could see the game as a player but it's another thing to teach it and to make those guys see it. I have to learn first and foremost, but being there with those kids reminds me of when I was there at the beginning of my career – it is nice."
"The main thing we are talking about is developing players," he continued. "Winning games is not the first thing – the first thing is to prepare them to play with the first team so if Arsene ever needs a player, even in training, that player is ready to perform and to play the Arsenal way.
"You need to make sure that you shape them for the first team so that they know exactly what Arsene requires and how they need to play."
Surely that knowledge of Arsene Wenger's philosophy is the most important thing that the Arsenal Board will be looking for when Wenger does decide to finally call it a day, and if Henry stays in the job for the next four years at least then he could become an obvious candidate.
But Le Prof has also been talking up Mikel Arteta's credentials a future coach as well. The Spaniard was already working with the Arsenal youth teams last season, before Wenger gave him another one-year extension, and Le Prof has spoken about how he high he rates Arteta. "Mikel has a huge influence even when he is not playing," Wenger said. "He is super conscientious, and every morning two hours before training he prepares and that is absolutely right.
"Just through his behaviour, his focus on getting everything right in the team, he has a huge influence. He has great experience and is respected throughout the squad.
"I really hope Mikel considers going into coaching. When you manage, you want to see your players continue and see them give their experience and knowledge back.
"You want them to give their expertise of the way we want to play football and the way we want to behave. It would be great if someone like Mikel went into management, so somewhere the spirit of our game can survive through the players who have played for us.
"But at the moment I must say Mikel is still here as a football player. The first thing in life, when you sign the contract you have to give absolutely everything to the job you have signed for and I think he does that very well.
"He has the quality to be a manager in the future I'm sure, but at the moment he gives his focus on the job as a player and gives absolutely everything."
You surely couldn't get a better recommendation that that on your CV, and although this is likely to be Mikel's last playing contract, I am sure Wenger would jump at the chance for the Spaniard to stay in a coaching role. And again, by the time Wenger retires, Arteta may just about be ready to coach the team in "The Arsenal Way.
Perhaps we could have Henry as manager and Arteta as his assistant?