I know there is thousands of Arsenal transfer rumours linking us with big-name players, but Arsene Wenger also has a great track record of buying extremely promising youngsters at good prices, and one of those bids last summer was for the excellent Celtic left-back Kieran Tierney, who was the subject of a £10million bid from Arsenal last summer.
The 19 year-old has now revealed that he had no problem turning down a move to the Emirates despite knowing that he was turning down a massive increase in wages and maybe even the chance of a lifetime. He said in the Daily Record: "The manager (Brendan Rodgers) came in last year and I had been told already there was a big bid there.
"It was a dream season for me last year individually and the manager said he wanted me to stay and sign a deal.
"As soon as I trained under him, there was no convincing needed. I was going to stay at Celtic anyway.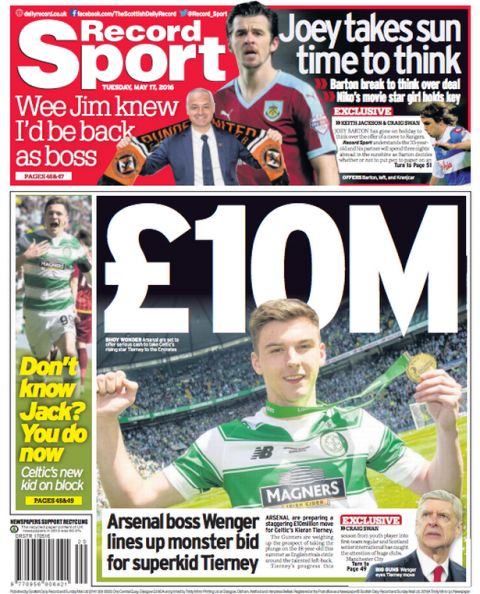 "It's always flattering to hear other clubs are interested but I had no doubt in my mind I wanted to stay.
"The money factor is what a lot of people care about
"All I was working towards was earning a new deal at Celtic. I wasn't looking to move somewhere else.
"The club could have brought in anybody as manager and I would have stayed but after speaking to Brendan I knew something special was happening.
"The way he spoke to me for 10 minutes after the first day at training was brilliant. That has continued all year."
The fact is that young Tierney probably made the right decision. If he had moved to Arsenal he would have had to be extremely special to break into the first team with Monreal and Gibbs as competition, but instead he has played a full season with a team that has gone unbeaten in the League all season (if they don't lose this weekend) instead of earning more money playing for the Under-23's at Arsenal.
What would you have done in his position?