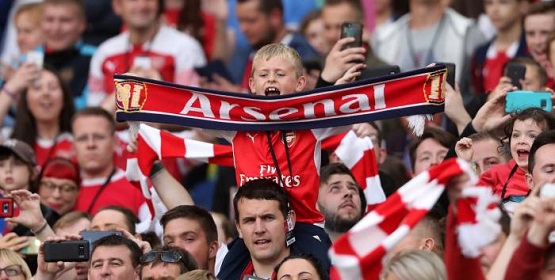 Time To Show The World How Real Gooners Act by Dan Smith
So Xhaka has revealed the scale of the abuse he's been receiving and it's worse than I imagined. Anyone still trying to make this a football debate is really missing the point, and it is obvious that real Arsenal fans should show their true feelings.
This is why I was so proud Arsenal didn't force him to apologise first thing on Monday morning just to pick a PR box. They needed to protect their player first, as clearly there was more to this situation then met the eye.
All week some gooners have demanded he say sorry, for what?
Where have the fans been hurt?
Why the sense of entitlement?
Because he threw an armband to the floor? In reality it is a piece of material. Now consider how important that material compared to his to his wife and child.
I'm sorry, but if fans were threatening to break your legs, wish your baby got cancer, and your wife was killed, then you were asked to say sorry, I think you would find that hard to stomach? You have to tolerate that treatment, yet Arsenal fans on social media are counting down how many days it's been where they haven't had an apology? Sorry, an apology for what? Telling those who were swearing at him to f……
Go to a police officer and see which one he finds more serious; "Sorry officer, this man threw our arm band to the floor and put his hand to his ear" then ask him to read the private messages this man has been receiving over a period of time.
I am so glad he's been brave enough to give us the full picture. If he had taken the easy way out and said sorry that would have made me sick. He's effectively had to whistle blow on his own fans, we are an embarrassment this week, we have to accept that, take it on the chin and discourage others, don't make excuses for them.
Just like it's not all of Bulgaria who racially abused England, but it's still reported as Bulgarian fans, so our image of our fan base as a whole has been hurt by these bullies. That is a slur on real Arsenal fans.
While the majority behave themselves, I have noticed over the years how we can't seem to separate a footballer to a person. While most would never agree with the vile trolls, others follow it up with ……. 'but he's not very good' or ……. 'if the manager had dropped him.'
Let's get this right, in 2019 lots of our current squad are not really good enough to take us to the next level. Not just Xhaka.
Our defence is poo; why were we worried that we might get 50 million for Torreira, he's done nothing in a year? Why do we care at the moment if we get Ceballos permanently when he's been poor? Auba and Lacca most likely won't sign new contacts. There's so much wrong but that does not give anyone the right to abuse anyone else.
Our job now is to educate Xhaka. Teach him that it is the minority. That most of us have better values than that, are educated better. That at Arsenal we are a family, let us reassure him.
Imagine the message it will send if 60,000 real Arsenal fans chant his name on Saturday, drowning out those cowards. That doesn't mean we can't judge him or have our own opinions…
It simply reminds him and the dressing room that while there are a few who act like idiots, there are thousands more who have your back. The sad thing is, I know there were fans looking forward to this weekend, hoping they had hounded him out, like they had Mustafi. We were facing the humiliation of one of our own being jeered every time he touched the ball.
Now we know the reality, we can send a message that this is not the true reflection of a gooner. For the record I'm not saying he should play out of sympathy. The fact is for over a year Emery always picked him, his peers wanted him captain, so let's carry on like normal and send a message.
They say fans who do this are not football fans, but they are. They are simply fans who haven't got the balance right between sport and life. They take it too seriously, go too deep. The only way they will learn is by seeing the majority stand by Xhaka.
Victory In Harmony
Dan Smith