There is a rally being organized at Noon today, bringing together Arsenal and Liverpool fans groups, to protest about the way top clubs milk their supporters by charging astronomical ticket prices.
Arsenal currently have the most expensive tickets in Europe and that doesn't look set to change anytime soon, despite the MASSIVE increase in TV revenue to fund the running of our clubs.
If you are interested in joining the protest then everyone is meeting up at the Bear Roundabout opposite the Armoury. Here are the details as released by the Fans' Groups: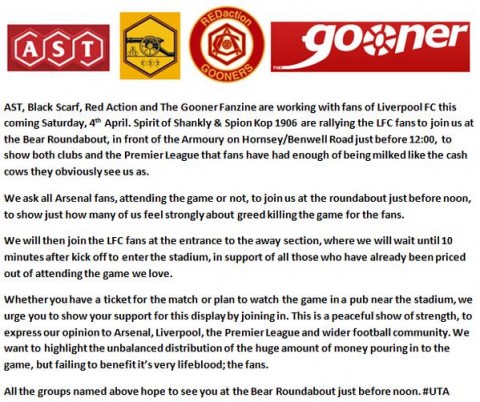 This is an open invitation to supporters of other clubs, including Liverpool, as ALL football fans are affected by these outlandish prices. Get up to the Emirates and make your feelings known!