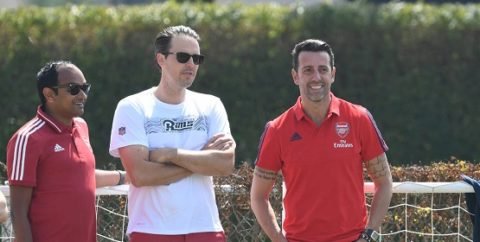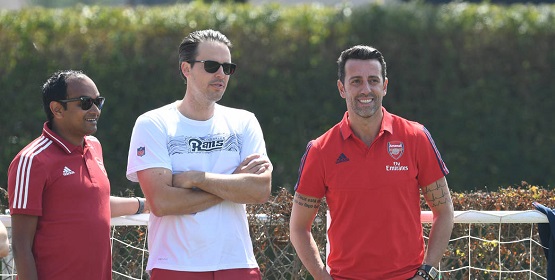 Josh Kroenke has given an interview on Arsenal.com and attempted to address some of the issues highlighted by the fans this week.
Here is the full transcript of that interview and we will give our reaction at the end.
Josh, Arsenal are in Denver for the first-time ever. How good does that make you feel?
How good does it make me feel? Well, it's incredibly exciting. We've been working on doing an event like this for a few years now, and to finally have it come to fruition is a wonderful thing. I travelled here from Los Angeles this morning with the players and the staff, and I could see the excitement on their faces. I know that as an organisation, we're really excited to be hosting a game in Denver.
Let's talk about your role with Arsenal. How would you clarify it?
I'm the vice-chairman of Kroenke Sports & Entertainment. Kroenke Sports & Entertainment is the owner, I guess you would call it, of Arsenal Football Club. I would not call us owners – I would say that we're custodians of the club. In an ownership position, you have to be [aware] of the values and traditions of the club. We want to be custodians of those as we move forward. Whenever I speak, I speak on behalf of my family and my father. Whenever my father speaks, he speaks on behalf of my family and myself. We're really excited to be involved with the club and to continue to drive it forward.
When it comes to sport, what are your values, Josh? What do you stand for?
I think that sport stands for competition, it stands for respect and it stands for a lot of different things that can be attributed to the rest of your life – teamwork, honour, integrity. But for us, it's mostly about winning. There's a lot of things that happen in the ebbs and flows of professional sport. Nothing equals the feeling of winning.
Of course that ties in to your ambition for the club. Where do you want Arsenal to be?
Our ambitions are silverware. Silverware and trophies. I think anything short of that is not a success. There are certain things that you have to do to lay foundations to achieve those goals, and I think we've done that over the past 12 to 14 months. From our coaching staff to our management, there have been significant changes that have gone on and I'm really excited to let those foundations continue to grow and take shape to build a successful future for Arsenal.
The club has changed in the last 14 months. You've brought some key people back in.
Yes, starting out at our academy. You have Per Mertesacker, and most recently we appointed Edu – so we have a technical director for the first time in the history of Arsenal. Not only that, we have a man who has Arsenal DNA. We have an Invincible. I think the mentality he brings back to the club is of the upmost importance, because he understands exactly what it takes to win, and not only to do that, but to win at the highest level. I think it requires a certain amount of work and mentality to get there.
As you know, the Premier League is so competitive, perhaps more so than it's ever been. How do we win?
It's a daily approach. There are no shortcuts. As much as we would love to say that we'll be competing for the top trophies tomorrow, we know that that's not the case and that we have to get to work on that. That's a daily approach to the little things from the top down. We understand that there's a daily approach and a daily requirement of detail that goes into the overall approach of building the club back to where it needs to be. You can't miss any of those details and you can't skip any days of work.
Last season, there were positives. We came so close but fell short.
Yeah, up until the last few weeks of the Premier League, we were on track for one of those Champions League places. To travel all the way to Baku and ultimately fall short of our goal of winning a trophy last year – and the Europa League, which would have been our first European trophy in quite a long time – it was very hard. I was there on the pitch with our players, with our staff. I was there on the podium handing out our second-place medals after the match. I could see the frustration, I could see the despair. I felt that, I understand that. I was living in the moment with them. Coming out of that, I'm proud to say that I think there's a true resolve behind the scenes to never feel that again at the club while we're together. It's going to be a lot of hard work to try and understand the mentality Edu is trying to bring back to us from his Invincible days. Not everybody might be ready for that work that lies ahead. We're going to be talking, communicating and having honest dialogue about how we're going to go about our process to achieve those ultimate goals of winning that silverware that we know we need.
There is scepticism out there. What do you say to our sceptics and to all our fans?
To all of our fans I say 'thank you'. Without their support, we wouldn't have a club. We need their support to be able to go out and do what we do. I think there's always going to be challenges in everything we do as a club, whether we're having the ultimate success on the pitch or not. But we need to understand that we are a group together and we all have the same interests. We're really excited about the challenges that lie ahead and we're not going to shy away from them. We're excited to one day look back and point at these moments, where this group came together, as the start of something special.
We're right in the middle of the transfer window and the fans are hoping for signings. What would you say to them?
I would say 'be excited'. There are a few things that I know our group are working on, and a few things we hopefully have on the doorstep. Nothing is ever a done deal until it's a done deal, obviously, but we know we have key areas we want to address in our squad, both now and in the future. Our entire football operations staff have a great grasp on that and I've encouraged them to be as aggressive as possible.
As you know, Josh, there's a famous motto at Arsenal: victory through harmony. What does that mean to you?
It can mean a lot of different things, but I think for me personally, what it means is an organisational harmony from top to bottom, where everyone is pursuing the exact same goal. They might have different ideas about how we go about getting there, but that means we're having honest and open dialogue about our own thoughts, and creating a harmony in the back office, on the coaching staff and leading down to the pitch, where everyone's pulling in the same direction and know exactly what we're trying to accomplish and when.
Reaction
Where to start?
OK, he says be excited about new signings but that is easier said than done. That said, I am prepared to give him the benefit of the doubt until the transfer window shuts because the truth is this, what happens in this transfer window will define our season.
If the club gets it wrong then the buck stops with the Kroenke family, I mean, he has just told us to get excited.
Everything else was PR to me, saying the right things about foundation and how he felt when we lost in Baku and so on but I cannot lie, I find it very difficult to take all that serious because actions speak louder than words and the actions over the last few seasons under their ownership have been less than overwhelming.
I understand what he says about Edu and getting that invincible feeling back, I also feel what he says about where he wants to get the club too but again, actions speak louder than words and the only action I see up to now is not a lot.
Cannot blame him for being honest about trophy prospects, we knew that anyway, if he would have said anything else we would have all called bull.
Nothing about the transfer budget which was disappointing but in all fairness, he has told us to be excited about new signings so will wait to see how that pans out first.
All in all his interview has done little to pacify me and only his words about being excited carry any weight.
Let's see if he is true to his word.