JustGoonerWomen and Just Arsenal are giving away a pair of free tickets for Arsenal Women v Chelsea at Emirates 15th January by Michelle
Our JustArsenal Women's editor Michelle via her Twitter account @JustGoonerWomen is giving away a pair of CLUB LEVEL tickets to the massive game between Arsenal Women and Chelsea at the Emirates on Sunday 15th January 2023.
The winner of this match will go a long way to deciding who are favourites to win the WSL title. Chelsea are currently 3 points ahead of Arsenal but have played one extra game, although Man United are also in the mix being just two points below us at the moment.
Okay, the rules are very simple…
All you have to do is be a follower of @justgoonerwomen on Twitter, and Retweet the competition post.
The draw for the winner will be done by TweetDraw, (https://tweet-draw.com/retweet-draw/) on the 11th January, which picks a random retweet of the original competition Tweet by JustGoonerWomen, so the process is completely random, transparent and open. We will then match the retweet to see if the winner is a follower of @JustGoonerWomen to check they have fulfilled the terms. You need to follow @justgoonerwomen to allow us to DM you if you are the winner.
You can only retweet ONCE. Not only is it against the rules but you could fall foul of Twitters official rules.
We will do the draw in the evening of the 11th of January (6 days from today) to give you time to make arrangements to get to the Emirates.  Match kick-off is at 12pm (noon) UK on Sunday 15th January 2023.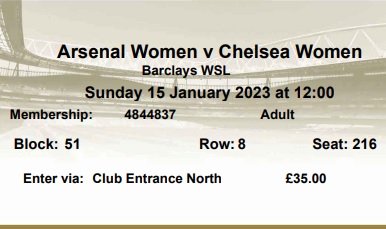 Please make sure you can arrange travel to the game on your own as we will only provide the CLUB LEVEL Entry tickets, which are located in Block 51 Row 8. Enter via Club Entry North gateway. We will also bring a couple of JustArsenal T-Shirts as extra gifts….
Michelle @Justgoonerwomen will arrange with the winner via DM on Twitter on how to ensure you get your tickets before the game (tickets will be emailed to you in PDF format – you need to present tickets at the gate).
Link to the original @justGoonerWomenTweet….
Link to Arsenal's official entry requirements and rules
Any queries please send Michelle a DM on Twitter @justgoonerwomen or by email at justgoonerwomen (at) hotmail.com.
Michelle Maxwell
Follow Michelle on Just Gooner Women on Twitter for regular updates on the Arsenal Women's Team!
Do you want to read more about the Arsenal Women's Team? Click here….