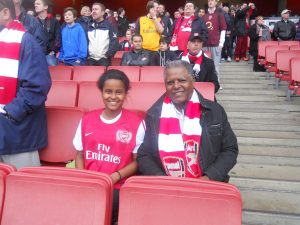 I'm just getting in touch from the charity Reprieve about an Arsenal fan called Andy Tsege – he's in a desperate situation at the moment and we're trying to raise a bit of awareness about what has happened to him. We'd love to get the Arsenal community to send a message of support to him and his family (also massive fans) this Christmas.
Andy has been held for over two years in Ethiopia, under a sentence of death. In June, he was kidnapped at an airport in June 2014 and taken illegally over the border by Ethiopian forces. His only 'crime' was speaking out against the Ethiopian government, who regularly crack down on critics of their human rights record.
Andy is a British citizen and has lived in north London for nearly 40 years. He's a massive Arsenal supporter and regularly went to home games with his kids, as you can see from the attached pic. Their entire family are football mad and his partner Yemi has been keeping count of every Arsenal game that Andy's missed since he's been gone.
Andy's three kids are about to spend their third Christmas without their dad, and we want to make them feel a little less alone and let them know that the Arsenal community is behind them with their support and solidarity. We'd also love to just raise awareness about Andy's case.
To do that, we're wondering if you'd mind signing and sharing this Christmas card we've put together from Arsenal supporters to Andy, Yemi and their kids on your blog and social media? We're trying to get a printed version of the card to be presented to Yemi and the kids on the Boxing Day game against West Brom, but even if we cannot make that happen, just being able to send something on to them signed by as many Arsenal supporters as we can find would mean the world.
Let me know if you're interested, and/or if you've any questions about Andy's case. Reprieve have been helping Andy's family since he was kidnapped, and we hope we can give them something to smile about this Christmas.
Thanks very much!
Alice Gillham
Reprieve