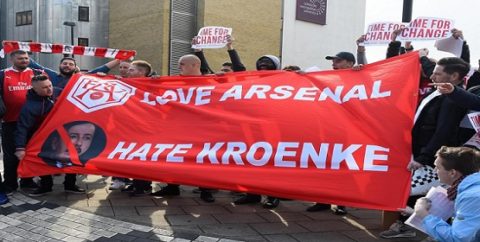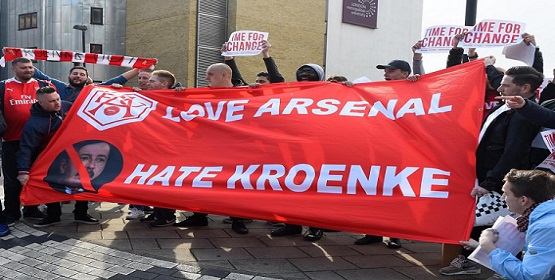 Have We Had Worse Than Stan? By Dan Smith
This week several influential sites, blogs, Youtubers have got together to. sign a petition aimed at how Stan Kroenke is running our club. As a gooner I appreciate those with a bigger platform then me who can ask for change.
It got me thinking where he ranks among those in our history who were in power over the club. In conclusion there are stories of corruption and those who generally had our best interest in their hearts. It's also sad to learn that for some families the gunners run through generations, but their shares were annexed by Stan's takeover when he became 100 percent owner (not thanking the likes of the Hill-wood's and Bracewell-Smith's).
So, something a little bit new boys and girls, let's look at previous gunners in power…
David Danskin
In 1886 David Danskin organised a work football team known as Dial Square FC; the employees of a workshop based at the Royal Arsenal in Woolwich. The 16 engineers had a collection, donating sixpence to have essentials (such as a ball).
In 1890 and 1891 they won the first trophies in our history (the only ones in the South East of London,), the same period when we turned professional. Having paid 3 more shillings then the others Danskin ran the club on and off the pitch before an injury forced him to stop playing. He failed to get elected by the committee. Little did he or his peers know Dial Square/ Royal Arsenal would become one of the UK biggest franchises. A few months ago, Arsenal paid to have his grave restored (least we haven't lost our class in that regard)
Henry Norris
I guess you could say this was our first owner, with our committee of workers struggling financially. Businessmen Norris saved us from. bankruptcy in 1910, realising the rise of other clubs in more lucrative parts in London, moved us away from Woolwich to a certain place called Highbury in North London. He was also Chairmen of Fulham and original plan was to merge the two sides into one super London dream team (imagine that being recommended today?)
World War 1 put the game on hold for years but upon its return Norris was accused of bribing Liverpool owner John McKenna at an AGM meeting to promote us to the newly enlarged football league. We were voted ahead of Spurs and Wolves despite finishing below them in the 2nd division the last time a ball was kicked. (That's a bit like Kroenke being caught paying off the Glazers)
Samuel Hill-Wood
A former cricketer and politician, he inherited his father's cotton business, making Arsenal (by those standards) wealthy for the first time. While how Norris secured our promotion was controversial, he had fulfilled his vision of us now playing top level football in a rich part of London, with Highbury doubling our attendances compared to where we were based. It meant we could offer salaries to managers and players most unrivalled by our competition, getting the likes of Herbert Chapman who took us to our first ever title. This is how we got the Nick name the Bank of England club. His son and grandson would also take on the same role. keeping the gunners in the Hill-Wood family from 1929-2013.
Bracewell-Smith
The 619th London Mayor made his fortune in property investment, building a hotel (you may have heard of it) called Park Lane. Then brought a certain hotel called the Ritz. Firstly, got involved with Arsenal not out of love for the sport but his passion for his profession, using his contacts to support us after the effects of the war. This was one of his many interests, obviously with a keen eye on politics as well. He was the first to really want to protect the legacy of our club.
When you hear people say we did things the right way, Lord Bracewell put his son and the child of Samuel Hill-Wood on the Board, so he knew Arsenal would be run properly with proper values long after he wasn't around. (What would he make of things right now?)
Denis Hill-Wood
Had been on the board for 13 years at this point and given who is father was, had Arsenal football club in his blood. He also followed in his dad's footsteps by playing cricket at a high level. He was a bit behind the times in certain aspects, Highbury being one of the last stadiums to play music through the PA system. He could read people though. Having not won a trophy since 1953, he recognised leadership qualities in our physiotherapist, Bertie Mee. When the man himself raised doubts, he brought in Dave Sexton and Don Howe to help tactically. This led to a League and Cup double and Fairs Cup win.
Peter Hill-Wood
Denis wanted his son groomed to replace him one day, meaning he was ready to step into the role upon his father's death in 1982. Out of all the Hill-Wood's he's overseen the most successful period in our history, yet the irony is he's had less of a day running of the club like his grandad or dad did. Smart businessmen know when to leave the jobs to experts who know what they are doing.
He wanted Sir Chips Keswick on board having worked with him before, while he allowed David Dein to run the daily operations (he sold Dein some family holdings) while Arsene Wenger had major control. He sold the rest of his shares to Mr Kroenke between 2009 – 20010 having originally been opposed to us needing a single owner.
David Dein
By 1991, David Dein owned 41 percent of the club with Hill-Wood happy for him to run the daily aspects. Credited for hiring Mr Wenger, their working relationship oversaw the most successful period in our history, especially in terms of our transfer business. He would get deals done. In 2007, with stadium debt needing to be paid, he saw a chance for us to have investment put into the club. When the board put a freeze on someone buying all shares, he saw this as his peers protecting themselves rather than the team. He sold his remaining shares to Red and White Holdings.
Danny Fiszman
From 1991 onwards he started buying shares off his friend David Dein, ending up with 24 percent by 2007. His legacy will be leading the move to the Emirates but after a year of tightening the budget to pay off debt, he was one of the first to do business with Stan Kroenke. As his health got worse the more control he handed to Stan.
Bracewell-Smith Family
While on the board, George died, meaning Arsenal was inherited by his son like his grandfather wished. Guy though had little interest in business, selling the Ritz and happy to make money off Arsenal. When he passed away at the age of 30, his younger brother became the beneficiary. When Charles married in 1996, he gave his shares over to his wife.
Nina Bracewell-Smith
She was happy to sit on the board as her husband didn't want to be involved but didn't want to sell out of respect to his grandfather wishes. Along with Peter Hill-Wood and her husband's cousins (who inherited small shares) they agreed a 12 month lockdown to not sell to Red Holdings. Eventually with a promise to keep her as life President she sold out to Mr Kroenke, ending her family's 70-year link with the club. She has since admitted she regret s the deal wishing she sold to Red and White Holdings.
Red & White Holdings
David Dein found investment in the shape of Alisher Usmanov and Farhad Moshiri. Both claiming to be lifelong supporters they were willing to do for Arsenal what Roman Abramovich had done for Chelsea. When board members put a 12 month lock down on share sales, Dein felt they were putting their own needs ahead of the team so sold them his shares. A battle ensued between RWH and Mr Kroenke, with the American being the first to gain 30 percent of the club at which point they could offer for other shares. A year ago, he accepted the American wasn't going to budge and cashed in his remaining interests to give Kroenke full control over the club.
Be nice in the comments