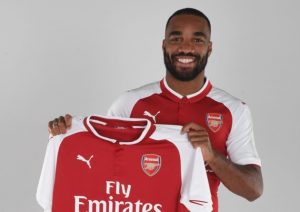 The long-suffering Arsenal fans have been complaining about the Arsenal management and Board considering that the Top Four is our legitimate target every year, but thinks that with our vast resources we should really be aiming for bigger things, like the League title itself.
This summer, when Arsenal splashed out a record fee to bring in Alexandre Lacazette to improve our scoring potential we were hoping that this signalled a bit more ambition from the Gunners heirarchy, but now the French striker himself has admitted that he was told that our target was just to get into the Top Four. When asked about our title chances, Lacazette said: "It would be really complicated to win it at this point,"
"We would really need a miracle. City would need to lose a lot of their games and we know their record. But the goal in coming here was always to qualify for the Champions League and if we could get the title, fantastic."
I am surprised that a top striker like Laca would join a club that didn't honestly have the ambition to go to the very top and at least make the effort to win the League title, but he also admitted that it was the French connection of Wenger and the club that had made him want to join us in the first place. "It was really the meeting with the coach that made me want to come here, it was something I had thought about since I was little," he continued.
"I had spoken about it a lot for many years with Francis Coquelin but it was really all about that meeting with the coach.
"I benefit from his experience on a daily basis, especially his past and how he has worked with various strikers.
"We are always chatting about small things I can do to make little improvements. It will be a really nice record for him too."
So he obviously based his decision to join us on Wenger's past record and his ability to converse with Wenger and the players in his native language, rather than our ambition….
Admin