The Chelsea superstar Eden Hazard has scored 7 goals this season and has been widely acclaimed as the best player in the Premier League, but in the latest Sky Power Rankings, both Alexandre Lacazette and Everton's Gylfi Sirgurdsson have finished above him.
The other two Arsenal players in the Top 20 charts are Pierre Emerick Aubameyang and surprisingly Granot Xhaka. Here is the full list…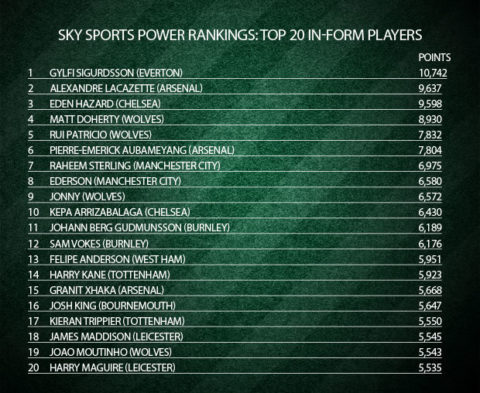 Each player's performance is assessed by a complex system which awards points for 33 different matchday stats.

These stats include goals, passes, tackles, blocks, big chances missed and touches.

Each action is worth more or less depending on whether the player is a goalkeeper, defender, midfielder or forward.

The rankings only take into account the last five matches, with the most recent games weighted more heavily.
Lacazette has obviously been on fire and has scored five goals, but Aubameyang has got six but doesn't rank higher than his fellow striker and is down in 6th place. But the interesting one is having Granit Xhaka in 15th which just shows how much he has improved under Emery this season.
No sign of Mesut Ozil….
Admin