One of the big questions that people are asking with less than a month to go before the start of the new Premier League season is whether last season's champions Leicester City can keep it going and be one of the main challengers again or whether the league will go back to the status quo of the big clubs dominating.
Arsenal were the best of the rest last time around but that does not mean that we are confident of winning it if we finish above the Foxes this time but one way Arsene Wenger could make that a lot more likely is to sign one of their best players. The Frenchman has already tried and failed with the flying forward Jamie Vardy as we know, but perhaps he will have more luck in the pursuit of their second top scorer Riyad Mahrez.
Leicester's manager Claudio Ranieri stated his belief this week that no more of his stars would be following N'Golo Kante out of the club but a report in The Guardian today tells me that the Italian's words were more hopeful than confident and the accompanying picture of the Algerian international looking less than overjoyed to be back does nothing to back up Ranieri's hope.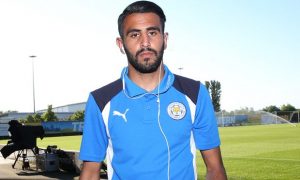 Neither does the words of the Leicester captain Wes Morgan who himself committed his future to the club this week and urged Mahrez and others to do the same.
Morgan said, "I know there's a lot of talking going off but hopefully everybody can follow in my footsteps. We want to maintain our key players and build on that with the new players because we have got a lot to play for this season. We have some fantastic players and some of the bigger teams in Europe are going to want them. We need to focus on our job, let the people talk the talk and do what we can do on the pitch.
"I suppose it's to be expected especially after the season we had and I suppose teams trying to poach our better players is part and parcel of the job."
It sounds to me like he is worried that Mahrez is going to follow Kante rather than Vardy, don't you think?
Bob.