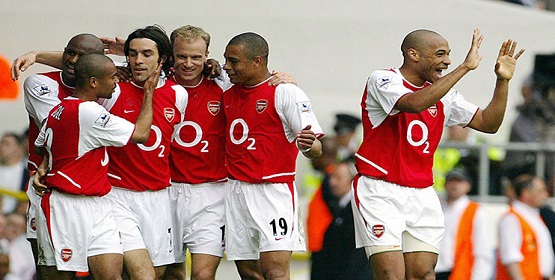 It's become a yearly tradition for the media to over-hype whoever is top of the League, and ask if they can go the Premiership season undefeated. It again reminds me how we never got enough credit for the Invincibles achievement in 2004 with people not appreciating how hard it was.
In the last couple of weeks Liverpool needed luck to beat Sheffield United and Leicester. Now imagine going another 30 fixtures, home or away, whatever the weather, whoever's injured, even when luck is going against you, and you find a way to not lose.
Hence, we are the only English side since Preston in 1889 to pull off the feat and (that was 27 games long) so it's not unfair to say it's unlikely.
However, seing as people have been comparing, let's do our own comparison of Liverpool vs Invincibles (plus I'm bored because it's the international break). Paul Merson laughed off the notion of Klopp matching what we did but who would get in a combined 11?
Comment below with any formation you want.
Be kind to each other in the comments
GK- Alisson
It's incredible we were so consistent with Lehmann in goal as you always thought his temper would eventually get us into trouble. Ironically it did the day we won the title when, perhaps knowing a draw would be enough he decided to throw a Spurs player to the floor gifting them a 2-2 draw. In a way it's unfair to compare, as the requirements for a keeper seem to have changed.
Alisson is what the modern managers want, with this obsession of your goalie being good with his feet and almost acting like a sweeper. In 2003 you just needed to be good with your hands. As we liked to play the right way, having a keeper good with his feet couldn't hurt I guess.
LB – Cole
Has to be Cole as he was the best Left back in the world for most of the time he was playing. His understanding with Pires and Henry was crucial to our success. When it clicked our left hand side destroyed sides.
CB- Campbell
Why we were so good in this era, as much as we could outplay you on the ball, we could match you physically as well. While the flair players get most of the credit, you need those who love a battle, who are not going to back down when playing Bolton away on a cold Wednesday evening. Our dressing room now is crying out for the likes of Sol.
Van Dijk
As much as a success story Touré was, learning a whole new position, I have to go with Van Dijk. He has improved Liverpool dramatically and his pure presence seems to have made the rest of the back 4 better. It's not a golden era for defenders but he makes things look like it's easy. What a defensive partnership that would be!
Arnold- RB
Easily could have gone for Lauren who again you could rely on for the physical side of things, but I think it was only right to acknowledge the impact the full backs have in the current Liverpool set up. With a workman-like midfield it's up to the likes of Arnold to be an attacking outlet. His delivery is outstanding which might not help an Arsenal team who rarely scored with their heads but hey it could only help?
DM- Vieira
Again, I'm playing a diamond to fit as many attacking players in as I can. If this was an actual game, it might prevent how much he could dribble forward but it's a midfield presence that we need. This is my easiest choice. Put it this way Viera or Henderson lol.
AM- Bergkamp
Playing behind the front 2 as a way to fit in as many attackers as possible. Liverpool fans are right to say Firminho has a footballing brain and it's his unselfish work that brings out the best of the other two. In other words, he's a poor man's Bergkamp. Why it is okay playing him as an AM is because he dropped back anyway to spot the runs of his peers.
RM- Ljungberg
The biggest compliment I can pay Bergkamp is if the Dutchmen is in the team then suddenly others become automatic picks due to the understanding they had with him. For example, some might argue that Mane is a better player than the Swede, but how can you leave out the runs that he would make, and Dennis would spot. Don't get me wrong Mane doesn't stay in one position either but he's more direct.
LM- Pires
Like Freddie, he wouldn't stay in one position. Could suddenly pop up in the middle, on the right, etc. His movement off the ball was outstanding. It's their understanding, running off Bergkamp which puts them in. It's too crucial to our success to leave out.
Striker – Henry
Obviously as he's the greatest of all time! He probably wouldn't like having to play with another striker as Bergkamp was more of a provider, which is why he's called him his favourite partner. Still though, he has that understanding to play off, while Cole and Pires on the left to work with.
Striker – Salah
It would be harsh not to get one of Liverpool's front three in the team. Bergkamp has better footballing brain then Firminiho, while Mane wouldn't make the runs like Pires and Ljungberg for the Dutchmen to spot. That leaves Salah who is a goal scorer, but can equally move off the ball – one moment being on the wing, the next in the middle.
What would be your line-up?
Dan Smith