Manchester United vs Arsenal – A Statistical Preview
Despite the emergence of a number of other Premier League teams since this fixture rose to prominence at the turn of the century, Man United V Arsenal still has an edge unlike many games.
There have been many memorable encounters between the sides in the Premier League era, and with Jose Mourinho at the helm there are likely to be further fireworks on Saturday.
While Arsenal have made a better start to this season and are playing better football, Arsene Wenger has failed to ever beat one of Mourinho's sides in a competitive fixture.
A whole lot of history
It is Manchester United who have won more games against the Gunners than vice versa, with the current tally 22 wins to 12 in the Manchester club's favour.
Overall the sides have met 48 times in the EPL, and in recent years United have had the upper hand, with nine wins from the last 14 encounters in the league.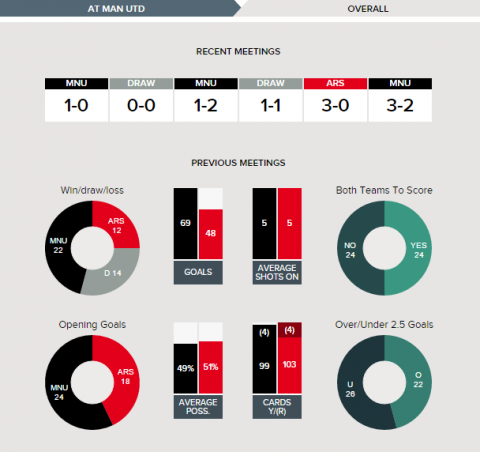 In fact Man United have been somewhat of a bogey team for Arsenal in recent years, with the majority of their Premier League victories coming in the last eight seasons.
And since the Premier League era began United have outscored Arsenal by more than 26 goals.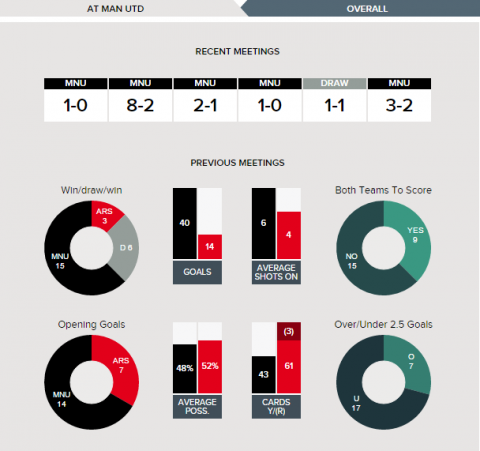 Recent League form favours the Gunners
But it's certainly not all doom and gloom for the Gunners, who have suffered just one defeat in their previous 20 top-flight games.
That streak has led to Arsenal collecting 24 points from a possible 30, while United have just two wins from their last eight games.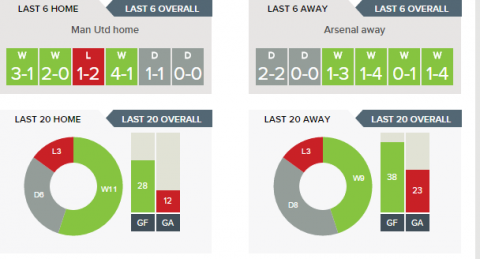 And while Old Trafford was the scene of Arsenal's last away defeat, it seems likely that tomorrow's match will be far more competitive.
United have shown their best form at home in recent times though, and are starting to rediscover some of the 'fortress' mentality they had during Alex Ferguson's era – collecting 30 from a possibly 39 points in recent times.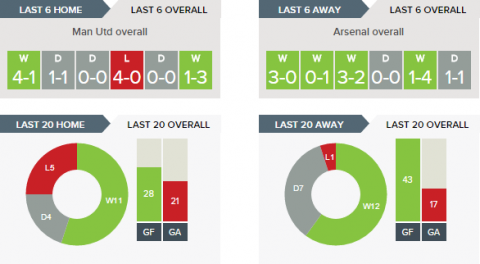 Can Wenger break the curse?
And when we look at overall form across the last ten games, Arsenal are well ahead; winning more matches, scoring more goals and conceding fewer.
When it comes to form in all competitions across the last ten games, Arsenal come out well on top, winning more matches, scoring more goals and conceding fewer goals than Manchester United: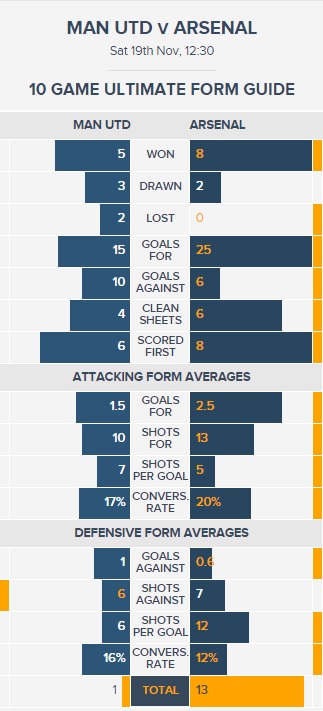 With Arsenal in such great shape, the question returns to whether Wenger can break his curse again Mourinho? If he can square off tactically against the Portuguese coach Arsenal have a very good chance of winning.
Preview and predictions provided by KickOff.