Match Review: Arsenal Women 4-0 Reading as Gunners keep pace at the top of WSL by Michelle
Arsenal Women are definitely back to their winning ways after a dominant 4-0 win over 9th place Reading last night, at Meadow Park. Last night marked Arsenal's 3rd consecutive win in as many games across all competitions, which include beating Chelsea to win the Conti Cup last weekend and a 2-0 win over Liverpool midweek.
Arsenal put on a great display of football last night and were an absolute joy to watch, in my opinion, playing some exquisite, composed football – putting some beautiful passes together and working set-pieces. We know Reading are 9th in the WSL, only 3 points above bottom-of-the-league Leicester City, but Reading are also the team that Chelsea won 3-2 against in December, Manchester United could only manage a 1-0 win over in January and they beat West Ham 2-1 only the previous weekend. Reading are also in the Vitality Women's FA Cup quarter-finals. So, with all of that in mind, Arsenal did exceptionally well to dominate and score four goals with no reply..
Kim Little put a spot kick into the back of the net in the 4th minute of the match, after Katie McCabe was fouled in the box, taking our Gunners to 1-0. Our Gunners had chance after chance in the first half with near-misses from Foord, Rafaelle, Maanum and Little. Foord passed a great ball into the danger zone that found Maanum, who blasted it home from close range just before the half-time whistle. Our Gunners went into the break 2-0 up.
Our Gunners came on just as lively after the break adding another goal minutes into the second-half. Williamson – who played exceptionally and was awarded Player of the Match – fed a ball through to Maanum who made a powerful strike with the move ending up with ex-Gunner Emma Mukandi putting the ball in her own net. Arsenal 3-0 Reading.
Foord, who played exceptionally, got a ball through to Stina Blackstenius who hit a strike on target that was parried out by Moloney only to be struck by Williamson, who buried the ball in the back of the net. Arsenal 4-0 Reading
Eidevall made a number of substitutions, bringing our young Gunners onto the pitch – Pelova, Kuhl and Gio, and it was great to see them in action.  We also saw the return of Lina Hurtig to our Gunners front-line.
The Match Stats below, courtesy of the BBC, tell the story of the match well..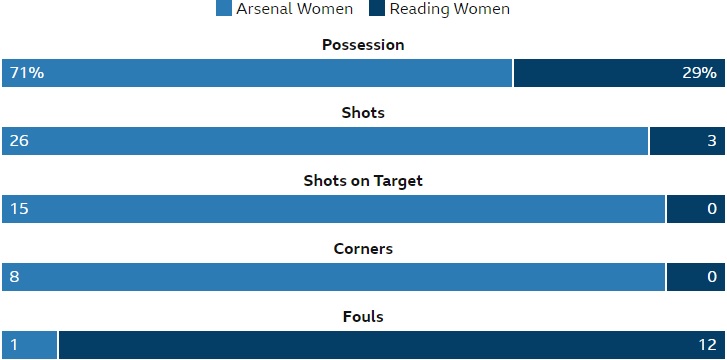 After Manchester City and Chelsea both won their matches this weekend, Arsenal remain in fourth position in the WSL but are within striking distance of City and United. Our Gunners are only 3 points below both Manchester Clubs but have a game in hand over both too..
Arsenal Women now have 9 days before their next big test, when they head to Bayern Munich in the Champions League quarter-final 1st leg.
Did you enjoy the match? What do you think of our Gunners performance? Are they there now after a faltering start? It feels like it!
Michelle Maxwell
---
Review of ARSENAL WOMEN'S brilliant victory over Chelsea in the Conti Cup Final ….…
Follow Michelle on Just Gooner Women on Twitter for regular updates on the Arsenal Womens Team!
Do you want to read more about the Arsenal Women's Team? Click here….