SIX SURPRISINGLY BRILLIANT SHKODRAN MUSTAFI STATS HIS CRITICS NEED TO SEE by Russell Cane
Shkodran Mustafi has been the subject of heavy criticism for Arsenal in recent weeks, however stats released by daily fantasy football game Oulala.com in fact reveal the German has outperformed a number of the Premier League's best centre-backs in six key areas over the course of the season.
We have taken a look at how Shkodran Mustafi measures up against the best performing centre-backs from the Premier League's top six clubs. The results may surprise you.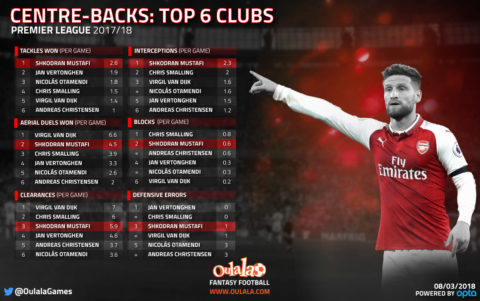 Mustafi has won more tackles and interceptions per game than any of Jan Vertonghen, Nicolas Otamendi, Chris Smalling, Virgil van Dijk and Andreas Christensen. While only the Liverpool and Manchester United centre-backs have made more clearances, blocks or won more aerial battles.
Additionally, Mustafi's single defensive error is reasonably good when compared to the three Otamendi and Christensen have made, alongside the one from van Dijk in just five Premier League appearances for Liverpool.