SEASON TICKETS – AN HONEST ATTEMPT TO GET TO THE TRUTH REGARDING SEASON TICKETS
by ken 1945
When I decided to look into the thorny subject of season ticket prices, it was because my view is that Arsenal Football Club has been totally misrepresented by the media yet again.
Little did I realise what a can of worms I was about to open.
Initially I wanted to reveal every level of cost from the top six clubs at the end of last season, plus West Ham, who are being subsidised by most of us anyway.
However that proved to be an impossibility.
Just go to the Chelsea website, as an example,to realise how many different areas there are, quoting different prices and then you will understand why it is a nightmare to produce a spreadsheet that includes all these different scenarios.
That meant I had to review exactly what I wanted to achieve and decided that, if I produced the lowest and highest prices for three catagories that would include every age group, then that would suffice.
I also decided to only include those areas that a "working class genuine supporter" would be looking to purchase a season ticket.
No prawn brigade prices included, I hope you will understand why.
In deciding this, I realise some of you might accuse me of trying to mislead, but that is not my intention, as I have tried to do this for the other clubs as well.
As a fellow Gooner, I just want to present the facts by using the same criteria for all six clubs, wherever I could work it out!
I have obtained the prices stated from our rivals websites and contacted Arsenal directly to obtain our own. The Arsenal prices are for the lower tier around the Emirates and are for a new season ticket holder to purchase.
Please note that the higher prices quoted for our rivals MAY NOT BE THE CASE, but it is the lowest price that I wanted to investigate.
Please remember that Arsenal is the only club to include seven cup ties as part of their pricing structure, and I have used this fact to work out the averages that appear on the spreadsheet.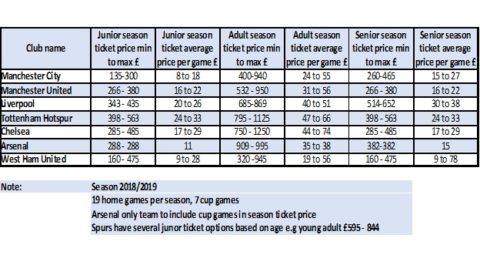 So fellow Gooners, some interesting facts emerge from this exercise dont you think?
It wasn't the detailed information that I promised myself I would do, but this does show that my belief the media has deliberately misled the football world at large and, more importantly, continue to paint our club in a bad light is correct.
As an aside, I stumbled across the following when doing the above research.
Source = BBC
Average £yield per supporter at home games:
Arsenal = £85.45
Chelsea = £79.25
PSG = £70.75
Barca = £59.50
Would be interesting to know what a pie and a pint costs at other venues, but I will leave that for someone else to calculate!!!
Ken 1945