Arsenal legend Paul Merson is the latest former Gunners star to have his say on Granit Xhaka's shocking outburst towards fans. Merson seems to sympathise with the midfielder.
Writing in his column for Sky Sports, Arsenal legend Paul Merson believes that Granit Xhaka was 'hurt' by vicious boos from the club's fans before his 'shocking' behaviour towards them during the 2-2 draw against Crystal Palace.
The Switzerland international cupped his ear when being booed off the pitch, before appearing to tell supporters to 'f*** off". The star then ripped off his Arsenal shirt before storming downing the tunnel.
We haven't seen a reaction like this from a Premier League player in some time. The incident is the biggest talking point in the football world right now.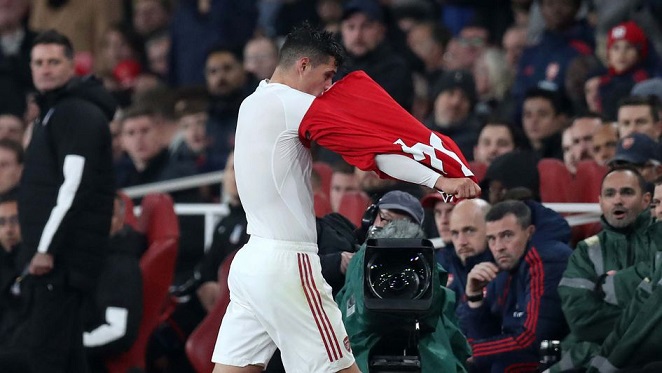 Here's what the 'Magic Man' had to say on the incident:
"Xhaka's behaviour was shocking but at the same time, he's hurt. He's the captain, he's getting booed off the pitch, the fans are going mad and it's the heat of the moment."
"It's not nice and no one wants to get booed off the pitch, I don't care who you are.
"You could be the best player in the world and even Cristiano Ronaldo and Lionel Messi wouldn't like to be booed off the pitch."
"Looking back now, in the heat of the moment, you're the captain and usually the last people to come off are the captains, then the crowd take it out on him."
"If he could have that one moment back, he probably wouldn't do it, but it's heat of the moment stuff. I'm one of his biggest critics but he does care."
"I've seen some people come off pitches and they don't care, they fly off and run faster off the pitch than they did during the game."
A whole host of Arsenal's former stars have had their say on the incident recently, Martin Keown believes Emery is at fault for the club's toxic atmosphere.
Considering the club's worrying form as of late, this drama is the last thing that the team needs. Every player's attention needs to be on football if the side are to come out of this poor spell.
Off-the-pitch sagas have contributed to the Gunners' downfall on countless occasions in recent years. The club's hierarchy need to resolve this matter as soon as possible.