Mesut Ozil is the problem for Arsenal by Toby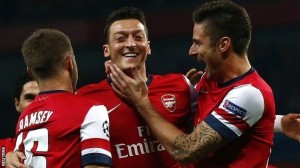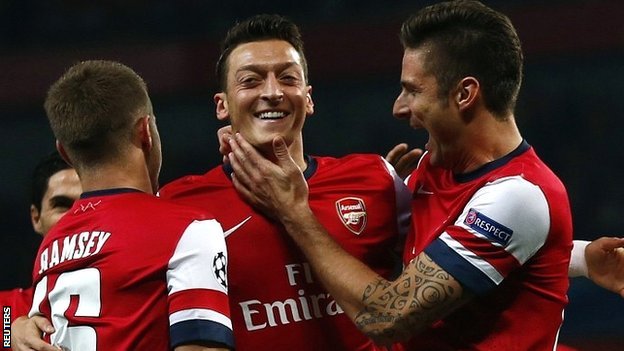 So before you all start flipping your lids allow me to explain. Yes Mesut Ozil is the problem with this Arsenal team at the moment, but rather the way the manager deploys him as opposed to the player himself.
Firstly lets establish what Ozil is, well he is a genuine number 10. He is not a winger or a midfielder, he is purely playmaker and creator of things and for my money is the best in the world at it. His stats for chances created this season stand alone and I feel no need to elaborate further.
So what's the problem and how does it disrupt the whole team? Well Wenger in his infinite wisdom deploys him as a midfielder in a 4-3-3 system and due to the obsession Wenger has with the 4-3-3 it causes no end of problems. Ozil is what he is and that certainly isn't a midfielder, and since we only play 3 in the middle straight away with Ozil as one of the 3 its basically 2. Now play Ramsey in the midfield and with his lack of discipline and incessant need to get forward it is now down to 1. Cazorla alongside Coquelin papers over some of the cracks but it still leaves us top heavy and light in the middle.
Its why teams have been tearing through us in the middle of the park all season, and why as soon as teams break on us they are straight at our centre backs. The 4-3-3 system also means are players are spread too far apart across the pitch to either press in numbers or hold there shape. We also subsequently struggle to dictate games or create genuine goal scoring chances from the midfield area. When was the last time we split a defence open with a pin point pass from the centre of the pitch the way Fabregas used too 3 times a game?
The system Wenger deploys is killing us, and his use of Ozil and total unwillingness to try a different formation is beyond a joke. We have a world class keeper in Cech, and in Ozil and Sanchez we have arguably the 2 best attacking players in the league behind Aguero. Set up with Sanchez up top and Ozil in the hole as a genuine number 10. Then pick your hardest working and most disciplined players to set up behind them in two banks of four. It really is that simple and before you dismiss it, it's exactly how Leicester are going to win the league this year. Vardy up top, Mahrez in the hole, and two banks of hardworking organised nobody's behind them.
Ozil is the worlds best number 10 and to deploy him as anything else is a crime against the game. The 4-3-3 system and Wenger's constant attempts to shoe horn square pegs into round holes and accommodate his favourites is also costing us dearly. The middle of the park is where the game is won and lost and we have been getting railroaded there for quite some time.
2 disciplined banks of four behind Sanchez and Ozil would've won you the league this year. Only problem is to win the league that way would be an assault to the senses of our dear gaffer, to the point he would rather not lift the title than lift it that way.
Wenger putting players wants and needs plus his ideologies before tactics, team shape and trophies is just another reason to add to an ever growing list as to why he should walk away come May.
Ozil is not a midfielder and you certainly wouldn't use you're finest bone china to hammer in a nail! The whole team should be set up around him and he should have complete freedom to play. He shouldn't be burdened with a single responsibility other than to create.
Last point, off topic as always, if we are to ever be considered a top premier league side again we need to hustle a fellow top club out of one of there star players. For years it happened to us with our best players and the club owes it to the fans to swing the door the other way and make a real statement of intent. Go get Aguero by what ever means necessary, and if it costs 100 million and 250 thousand a week in wages then so bloody be it!
#Ozilisnotamidfielder#
Toby