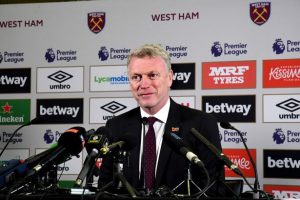 David Moyes has had an amazing effect on his West Ham since his arrival, and in the last three games they have beaten Chelsea and Stoke, and of course Arsenal's draw with the Hammers last week at the London Stadium, and they have kept three clean sheets in the process so we can hardly expect an easy game.
The new coach is looking forward to another good performance from his team and he would love to go all the way in the Carabao Cup, as he told the official West Ham website: "It is less than a week since we held Arsenal to a goalless draw in the Premier League at London Stadium and now we go to the Emirates in the Carabao Cup on Tuesday night to take them on again.
"This will be a completely different game against, most likely, a completely different Arsenal team.
"We'll go there and try to put in a good performance. Our performances have gradually been getting better, our defensive work has been good in recent weeks and I think our attacking play and using the ball has got better and we're making and creating more chances."
Arsene Wenger has already admitted that he would be playing a second-string side, but Moyes admitted that there will be a few changes to the West Ham side but not as much as he would have wanted! He said: "It'll be a totally different game, but we'll go there and try to give a good account of ourselves and win the game.
"We've got the same sort of squad but with a couple of injuries and a couple of young players around.
"Andy Carroll could return. He's had a bad back but he trained today and we will make a call on him tomorrow.
"Ideally we would have changed one or two players, but we're a bit short and our priority is the Premier League, but nothing would give me more pleasure than reaching a cup final.
"Joe Hart will definitely start tomorrow night. He's been very good around the place and he's ready to play."
So it looks like we could be heading for another tight game against the Hammers, and it will be interesting to see if our reserves can deal with them better than our first team did last week. It would be a great boost if Arsenal could reach the semi-final of the Carabao Cup tonight….
Admin