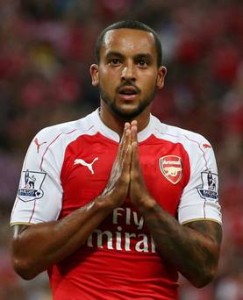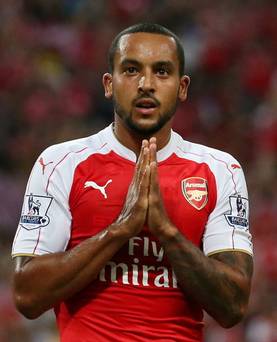 Theo Walcott has remained loyal to Arsenal and Wenger since Le Prof bought him from Southampton as a highly promising youngster, but he has never reached his expected heights due to the usual 'British' injury problems and lack of progression which has plagued most of Arsenal's English contingent. This season he has been relegated to the Gunners second team and has only featured in Europa League and League Cup games, with a measly 3 substitute cameos in the Premier League, with Lacazette, Ozil and Alexis likely to be our first choice front line when fit, and Iwobi, Giroud and Welbeck likely to be first-choice backups leaving little space for Walcott even on the bench.
For this reason, our legend Ian Wright has urged Walcott to push to leave Arsenal to find a first team place which is his only hope of finding the form to regain his place in the England side to go to Russia this summer for the World Cup.
Walcott has already indicated that this is his ultimate aim. When he was asked a few weeks ago if he still has hopes of reaching the World Cup Finals this coming summer. "Of course." he said. "That is why I need to be playing football, simple as that. But I need to deserve to be playing.
"So in this competition(Europa League), cup games, Premier League when given the chance, I need to take it. That is the only chance I have to get back into the England squad."
But is there really any hope of him achieving that at Arsenal. Wenger seemed to give the 28 year-old hope that he still has that chance when he said yesterday: "I do not want Theo to move on, his time in the Premier League will come.
"At the moment he has got less minutes in the Premier League than other competitions."
But is there really any hope for him? Do you agree that he will have to leave in January to have any hope at all? And which other team would give him game time?
Admin