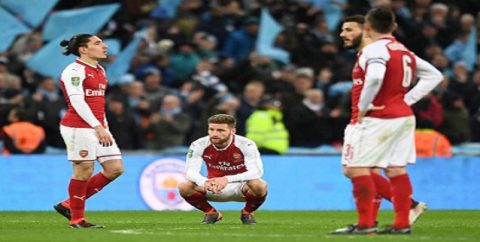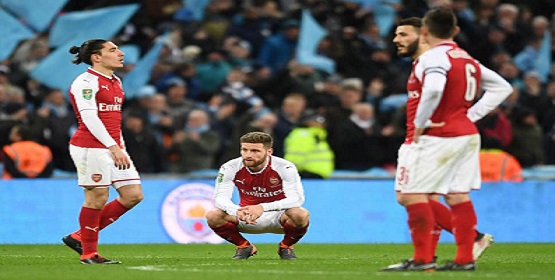 Have Arsenal Had Worse Defenders Than Mustafi? Dan Smith
The fact that Mustafi has yet to be included in our match day squad this season shows that Emery is happy for him to be sold. Arsenal are showing their hands by not playing him. In fact it's telling the world that we don't rate him, so therefore don't be surprised if our bluff is called at the 11th hour of the rest of Europe's transfer windows closing, with an offer nowhere near our valuation. I think any bid would be accepted as the priority is getting his salary off the wage bill.
The irony of some of our fan base isn't lost on me. We demand loyalty from players when it suits our agenda yet when someone insists he wants to stay he's booed throughout pre-season? It's why it's best for all parties for a fresh start. The German would only carry on being a scapegoat which would undermine his confidence leading to poor performances, a vicious circle.
Don't get me wrong, I'm not saying he's good enough for this level. I think mentally the pressure of playing in an environment where you have to win each week is too much, yet I don't think he's as bad as people make out either. There are worse defenders that have come to represent us in the Premiership, who never got the abuse the German did, which again shows a change in our fan base.
Gallas
Don't get me wrong, a great defender, but based on what he was brought to the Emirates to do, failed. He struggled to lead a young dressing room having got used to certain standards at Chelsea. When Clichy conceded a last-minute penalty at Birmingham, instead of putting his arm round the full back and pointing out we were still top of the Prem, he had a one-man sit-down protest. Fabregas was the more natural choice to captain a youthful squad and stories have emerged of him not being the most popular.
Upson
Don't get me wrong, he was a very good defender but given how he would play at Birmingham and West Ham got to be a case of what could have been? He was brought in as a long-term replacement for our famous back 4 but serious injuries made him impatient for first team action. Perhaps an oversight by both player and manager as he would have been good enough to partner Campbell.
Senderos
Ironically he played well in big games such as an FA Cup Final, as well as part of a back 4 which set a record for how many minutes with a clean sheet in Champions League. He was then bullied by Drogba and didn't have the personality to respond. It became a yearly joke of Drogba targeting Senderos to such a point there have been rumours of the defender having panic attacks beforehand each time the fixture came about.
Gabriel
Some felt the Brazilian was sold too soon, just as he was getting used to the physical nature of the League. Ironically compared to Mustafi in terms of lacking concentration skills, easy to be bullied and a tendency to dive in too much. Having watched him against Barcelona in the Copa del Rey though, could he still offer something?
Sol Campbell
Obviously, I meant the second time round. It says a lot about our willingness to save money, when we really needed a defender, we offered a short-term deal to a legend we initially would not offer an extension years earlier due to his age. Having not played for months and put on a serious amount of weight he was only meant to cover up a hole in the squad. Injuries meant he played more than anticipated and while never disgracing himself, seeing him start at the Nou Camp was asking too much.
Grimandi
What he lacked for in skill, he won our hearts over with his efforts. Replacing an injured Adams, he lacked the temperament to keep the position full time. Was better suited as a DM. Maximised his career despite his limitations. Every title squad needs a Grimandi.
Cygan
Was our only signing after winning the title in 2002. It quickly became obvious didn't have the mentality to be a starter every week, panicking under pressure and often out of position. His song says it all (look it up) yet history books will say he was an Invincible and two-time FA Cup winner.
Squillaci
Was brought in to add experience to a young dressing room but quickly became another headache. It quickly became clear he was struggling with the physical nature of the English League, and needed a leader to guide him, something he was meant to be doing for us. It takes a lot for Arsene Wenger to give up on someone so quickly but the Frenchmen was out in the cold fairly soon.
Mikael Silvestre
Silvestre was clearly past his best by the time we brought him from Man United. The idea was to have an extra body who could offer a young dressing room some experience. Injuries though meant the Frenchmen had to play a lot more than intended, when it was clear he had lost his pace.
Stepanovs
The story goes that Parlour and Bergkamp were winding up Keown based on the latest trialist being so good, his place was under threat. Arsenal Wenger, hearing this feedback, thought if the likes of Bergkamp were impressed he must be worth buying for a million. The joke backfired when injuries meant the Latvian had to start at Old Trafford leading to a 6-1 humiliation. In my first ever game at Highbury a year later I vividly remember everyone holding their breath every time he took a first touch. Was he the worst Gunner to win the Premier League?
Whether you agree with this list or not how many did we ever truly turn on like we have with the German? If Mustafi ends up staying my hope is supporters do their job and …… support!
Dan