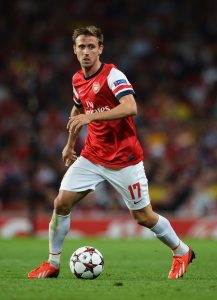 Monreal has today revealed that he could be looking to move on from Arsenal in the not so distant future. Although the Spaniard has made it very clear in his statement today that he hasn't thought about leaving Arsenal anytime soon, he has admitted that perhaps he wouldn't mind playing for Athletic Bilbao in the future. Given that the defender is now 30 years old, his time playing at the top level will fall over the next few years and with Arsenal usually unwilling to offer 'longer term' contracts to players over the age of thirty, then Monreal's time at Arsenal could be coming to an end sooner than you may think.
Monreal revealed his admiration for Atheltic today, with the left back telling Radio Euskadi: "I have great affection for Athletic but I think only about the present, not what could happen in the future. Although I am keeping all my options open. I have some good friends already at the club such as Raul Garcia".
The statement which is quoted in the Mirror, seems to suggest that Monreal has no plans on making Arsenal his final club, but that he is only thinking about here and now for the time being. Monreal has become not only one of Arsenal's most consistent players in recent years, but in the Premier League as a whole. His rise to stardom at Arsenal, after an initial period where he was struggling to make an impression, has been one that has paid off very well for the Gunners and he's massively improved the defence since his 2013 move. I think Monreal has been an excellent buy for Arsene Wenger, especially at a reported fee of £8 million. After 140 appearances for the Spaniard at Arsenal, I think it's fair to suggest that he is definitely one of the more established players in the current side.
Monreal has managed to keep Gibbs out of the team ever since he broke into the side at the expense of the Englishman. Gibbs was a regular for the Gunners until Monreal made his impression on Arsene Wenger and aside from injuries and competitive rotation, Monreal has been Arsenal's first choice left back for the last three seasons. Monreal's form has admittedly dropped slightly this season, so much so that some fans are in favour of a return of Kieran Gibbs. However as Arsene Wenger proved last weekend against Spurs, he is willing to give players the opportunity to prove themselves despite a dip in form.
So the question is whether Monreal will be sticking around at Arsenal beyond this season? Personally I think that he will remain at Arsenal for perhaps the season beyond this campaign at the very least, but it all depends on whether Gibbs can re-establish himself in this side, or if Wenger or whomever splashes out on a new left back in the upcoming transfer windows.
By AH