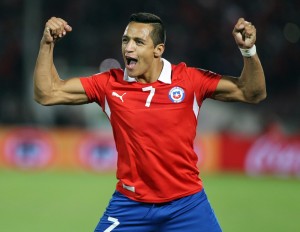 Arsenal's new strips for the upcoming season have apparently been leaked online, and they have a striking resemblance to the colours of Chile's international football kit.
The Gunners striker Alexis Sanchez has recently revealed that he has struggled since coming back from injury, due to nursing a hamstring injury, and now it appears that his club are looking to do all they can to settle him for the upcoming season.
Arsenal's supposed new kit has pretty much the same colour regime as that of his home-country.
Rumoured 2016/17 Arsenal kit. pic.twitter.com/hTdvvLeNLb

— Mike Sanz (@mikesanz19) 6 April 2016
Alexis has 28 goals in his 83 appearances for Chile since making his debut back in 2006, and is widely considered their man star, much as he is ours when he is on form.
Unfortunately for us, he has only managed three goals in all competitions since returning from a hamstring injury in January, lowering his previously impressive goals/games ratio. The forward will no doubt be a big player for us again next season, and he should be more than comfortable in our new strip.
Social Media has not taken the new kit well however, with most being unhappy at not having white shorts for the first time since before 1900, while others simply do not like it.
Personally what is most displeasing for me is that Theo Walcott's name is plastered on the new shirt, further strengthening the theory that he will be playing on again into the new term.
Does the resemblance to the Chile uniform take some of the hate away, or do you agree that is simply displeasing to the eye, and that the white shorts are a must?