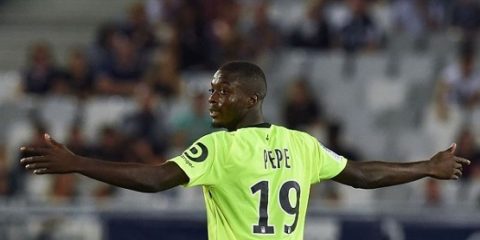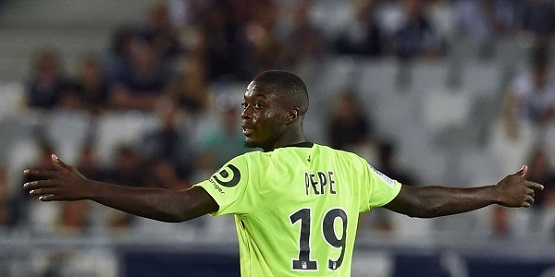 The arrival of Nicolas Pepe this summer was proof of Arsenal's renewed ambitions after the disappointment of their Europa League campaign. The winger came on briefly in the match against Burnley last weekend, and early indications are that Pepe could in the starting line-up against Liverpool.
Unai Emery has gone on record as stating that Pepe's performances are 'progressively getting better' and that he will make the decision on Friday as to whether the winger will play his full match debut on Saturday.
The Arsenal boss has said that Pepe will need time to adapt to life in North London, and Emery also wanted to ensure that the winger and his family feel comfortable in their new home. There's certainly a lot of pressure on the club's record signing who was snapped up for a staggering £72 million from Lille.
Pepe played a full 45 minutes in Arsenal's 2-1 win over Burnley. Although his performance was overshadowed by man-of-the-match Dani Ceballos, we saw glimpses of magic from the Ivory Coast star. In particular, it was the neat little nutmeg that completely outwitted Burnley's Ben McFee that gave the Arsenal faithful the biggest cause for cheer.
The winger made his debut appearance for the Gunners in their workmanlike 0-1 win against Newcastle. The huge reception that Pepe received certainly helped Arsenal seal their three points, and although he only played for 15 minutes, he showed a maturity beyond his 24 years.
With question marks over Granit Xhaka's bruising injury and Mesut Ozil's illness, it seems that now could be the perfect time for Emery to give Pepe a full 90 minutes. Arsenal will certainly need the winger's attacking abilities, as the Gunners were mercilessly beaten 5-1 at Anfield last December.
Pepe was signed on the back of his phenomenal performances with Lille in Ligue 1 football. He signed a five-year contract with Arsenal at the start of August, but as the young star didn't do any pre-season training with the side, he is having to learn on the job.
In 74 Ligue 1 appearances with Lille, Pepe managed to score 35 goals, and only Paris Saint Germain's Kylian Mbappe managed to get more goals and assists in French football last season. Pepe's pace and creativity cannot be contested, and it's going to be fascinating to see how he fits into the new-look Arsenal team.
Although the Gunners had a fairly humdrum 2018/19 season, they spent a massive amount of money during the summer transfer window. Alongside the record signing of Pepe, we've also seen new arrivals like William Saliba, Kiernan Tierney, David Luiz and Gabriel Martinelli coming to the Emirates.
The loan deal for Dani Ceballos from Real Madrid could be hugely significant as the midfielder has already taken Arsenal up a couple of notches. With the Gunners now sat neck-and-neck with Liverpool at the top of the Premier League table, it's been a heartwarming sight. This is especially so as many of the bookmakers featured at betting resources such as openodds.com had Arsenal at pretty long odds to pick up the Premier League title this season.
Although the arrival of David Luiz might have raised a few eyebrows, the signings of Nicolas Pepe and Dani Ceballos look to be exactly what we needed. What's great is that Pepe seems to be comfortable on either wing. If he's allowed to start on the right, then he can give Pierre-Emerick Aubameyang a much better chance of pressing forward. And although Reiss Nelson is a hugely promising youngster, he will have to work hard to keep Pepe from taking his place on the left wing.
Other Premier League clubs like Liverpool and Manchester United showed plenty of interest in signing Pepe from Lille. But in the end it was Pepe's decision to come to the Emirates as he felt that Arsenal matched his ambition, and he is sure to play a big role in the Gunners' Europa Cup campaign this season. But whether he can help Arsenal prove the doubters wrong and help the club pick up their first Premier League title since 2004 remains to be seen.