Back in September, we asked, "Should Arsenal Women's Eidevall adopt the inverted fullback system?" And one of our reasons for saying that was because of Katie McCabe, whom we observed: "If they go into the inverted fullback role, Katie McCabe's versatility and technical skills give her the ability to play as an inverted fullback."
Have you observed that Arsenal women's manager Jonas Eidevall has begun embracing the inverted full-back role, giving Katie McCabe the "Zinchenko role," where she drifts to midfield and overloads it to offer solidity and options for the Arsenal press?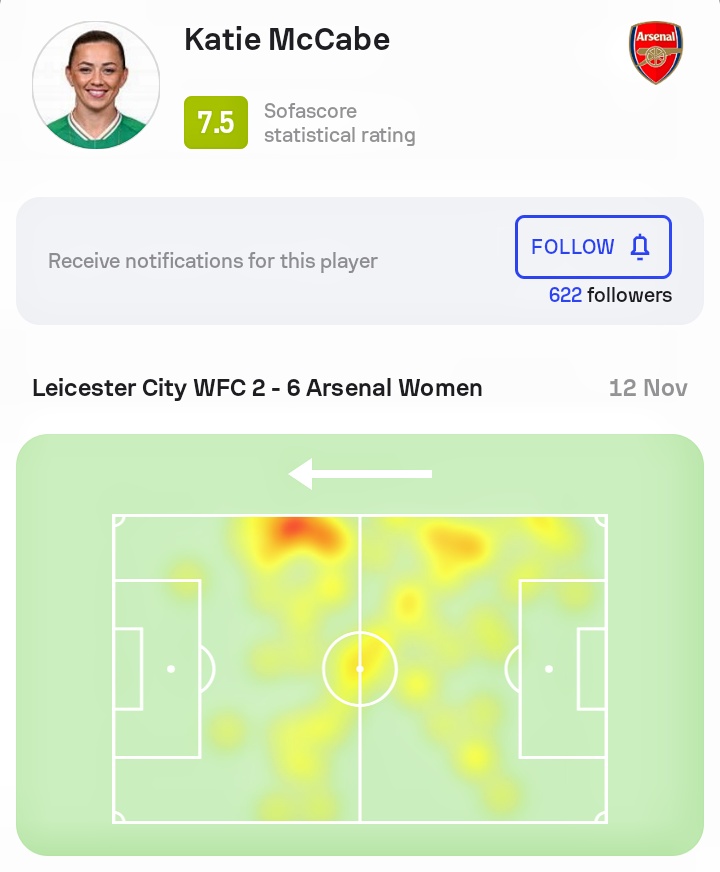 Katie McCabe started as a left back in Arsenal's 3-1 Continental Cup triumph over Bristol City. She occasionally slid into midfield to help build up and develop Arsenal's attack. Though it wasn't as obvious (the pattern of McCabe moving to midfield) as it was in the 6-2 triumph over Leicester, it wasn't so since Bristol played with a low block.
The Irish captain started at right back against Leicester, and she once again managed to play the inverted role. Leicester seemed to notice Arsenal was playing with an inverted right back in the first half and continued to target their left wing, feeding Hannah Cain passes to take advantage of Katie McCabe being out of position.
Katie McCabe, however, grew into the game as it progressed. She was effective in the inverted role, coming in next to Kyra Cooney-Cross and helping to carry the ball forward while also playing some defense-splitting passes to hurt the opponents. She assisted Alessia Russo's goal against Leicester while occupying an attacking midfielder position.
It's fascinating to watch Jonas Eidevall, with his talented squad, experiment with new approaches to help his team improve. It's early days for the inverted fullback concept, but I'm excited to see it used more. It could be the tactical move that propels Arsenal's women to glory.
Michelle Maxwell
Follow JustArsenal's Gooner Women on Just Gooner Women on Twitter for regular updates on the Arsenal Womens Team!
Do you want to read more about the Arsenal Women's Team? Click here….